Illinois uses multiple options for HSE (high school equivalency) testing, the GED®, HiSET, and TASC. HSE testing gives persons without a high school diploma the chance to acquire an equivalent diploma.
All three options measure academic proficiency at a level comparable to that of high school graduates.
The GED must be taken on a computer while the HiSET and TASC can be done both on a computer and on paper.
The GED contains four separate tests (modules) that can be taken individually.
The four GED tests are in the fields of Social Studies, Math, Literacy, and Science.
TASC and HiSET have five subtests (Literacy has separate reading and writing tests) that may also be taken individually.
Illinois requires test-takers also to pass the state's U.S. Constitution Test.
Illinois GED Testing Requirements
The minimum age in Illinois is 16. For 16 year old's, however, there are restrictions. See your nearest testing site.
GED exam fee: $120 (computer-based), HiSET and TASC are somewhat cheaper ($90 and $92 respectively).
GED retesting: $30 per subject.
In Illinois, you MUST be a state resident.
There is no requirement to first take a GED practice test, but you also must pass the Illinois Constitution test.
You must not have a high school degree and you don't attend another program.
GED Prep Classes In Illinois
You can prepare for the GED test by studying online or you may want to choose a traditional GED prep class in your area. For all options, choose your city or a city near you.
The GED credential is recognized as equivalent to a high school diploma by recruiters, government agencies, and colleges all across the United States. Getting the GED certificate is important for individuals who, for whatever reason, never finished high school, and gives them a second chance to obtain a comparable diploma. The GED credential gives them the chance to get a job, to improve their current employment, and get a college education.
Illinois GED Testing Centers
Aurora
Waubonsee Comm College – 5 E Galena Blvd, Aurora, IL 60506, 630-801-7900
Belleville
SWIC Belleville – 2500 Carlyle Ave, Belleville, IL 62221, 618-235-2700 et.x 5525
Carlinville
Regional Off of Education – 826 N Broad St, Carlinville, IL 62626, 217-854-4016
Chicago
Lighthouse for the Blind – 1850 West Roosevelt, Chicago, IL 60608, 312-666-1331
Int'l Academy of Design and Technology – 1 N State St, Chicago, IL 60602, 312-980-9200
City Colleges of Chicago, Kennedy-King Coll – 747 W 63rd St, Chicago, IL 60621, 773-451-2155
Paul Simon Chicago Job Corps – 3348 S Kedzie Ave, Chicago, IL 60623, 773-890-3100
Richard J. Daley College – 7500 S Pulaski Rd, Chicago, IL 60652-3011, 773-838-7774
Safer Foundation Youth Empowerment Program – 609 W Adams, Chicago, IL 60661, 773-638-8480
St. Augustine College – 1333-45 W Argyle, Chicago, IL 60640, 773-276-9196
Truman College – 1145 W Wilson Ave, Chicago, IL 60640, 793-907-4732
Wilbur Wright College – 4300 N Narragansett, Chicago, IL 60634, 773-481-8450
Chicago Heights
Prairie State College – 202 S Halsted St, Chicago Heights, IL 60411, 708-709-3500
Cicero
Morton College – 3801 S Central Ave, Cicero, IL 60804, 708-656-8000
Crystal Lake
McHenry Co College – 8900 US Hwy 14, Crystal Lake, IL 60012, 815-455-3700
Decatur
Macon-Piatt Regional Office of Ed. – 1690 Huston Drive, Decatur, IL 62526, 217-872-3721
Dixon
Lee-Ogle Regional Office of Education – 7772 Clinton St, Dixon, IL 61021, 815-652-2054
Dixon
Sauk Valley Comm College – 173 IL Route 2, Dixon, IL 61021, 815-835-6301
Elgin
Community College – 1700 Spartan Dr, Elgin, IL 60123, 847-214-7825
Evanston
Illinois Comm College Board – 1007 Church St, Evanston, IL 60201, 847-328-9795
Galesburg
Carl Sandburg College – 2400 Tom L. Wilson Boulevard, Galesburg, IL 61401, 309-341-5323
Galva
Black Hawk College East – 26230 Black Hawk Rd, Galva, IL 61434, 309-854-1700
Geneva
Kane County Regional Off of Education – 210 South 6th St, Geneva, IL 60134, 630-232-5957
Glen Ellyn
College of DuPage – 425 Fawell Blvd, Glen Ellyn, IL 60137, 630-942-2852
Granite City
SWIL Granite City – 4950 Maryville Rd, Granite City, IL 62040, 618-235-2700 ext. 5525
Grayslake
College of Lake Co – 19351 W Washington St, Grayslake, IL 60030, 847-543-2076
Hillsboro
Christian-Montgomery Regional Off of Education – 203 S Main St, Hillsboro, IL 62049, 217-532-9591
Jacksonville
Brown-Cass-Morgan Reg Off of Education – 110 N West Street, Jacksonville, IL 62650, 217-243-1804
Lewistown
Reg Superintendent's Office – 257 W Lincoln Ave, Lewistown, IL 61542, 309-518-8029
Lincoln
Heartland Comm. Coll. – 620 Broadway St, Lincoln, IL 62656, 217-735-1731
Loves Park
Boone Winnebago Reg. Office of Education, 300 Heart Blvd, Loves Park, IL 61111, 815-636-3060
Malta
Kishwaukee College – 21193 Malta Rd, Malta, IL 60150-9699, 815-825-2086
Morris
JJC Morris Education Ctr – 1715 N Division, Morris, IL 60450, 815-942-1552
Mount Vernon
Regional Office of Education #13 – 1714 Broadway, Mt Vernon, IL 62864, 618-244-8040
New Lenox
Will County Regional Off. of Education – 702 W Maple St, New Lenox, IL 60451, 815-740-8360
Normal
Heartland Comm. Coll. – 1500 W Raab Rd, Normal, IL 61761, 309-268-8180
Oglesby
Illinois Valley Comm College – 815 N Orlando Smith Ave, Oglesby, IL 61348, 815-224-2720
Palatine
William Rainey Harper Coll. – 1200 W Algonquin Road, Palatine, IL 60067, 847-925-6615
Palos Hills
Moraine Valley Comm College – 10900 S 88th Ave, Palos Hills, IL 60465, 708-974-5249
Pekin
Regional Off. of Education – 414 Court St, Ste 100, Pekin, IL 61554, 309-477-2290
Pontiac
Heartland Comm. Coll. – 211 E Madison St  | Pontiac | IL 61764, 815-842-6777
Rockford
Rockford Works! Center – 715 W State St, Rockford, IL 61102, 815-965-5332 x 130
Goodwill GoodGRADS Program – 850 N Church St, Rockford, IL 61103, 815-965-3795
South Holland
S Suburban College – 15800 S State St, South Holland, IL 60473, 708-596-2000
Springfield
Lanphier HS GED testing | 1300 N Eleventh St | Springfield | IL 62702 | 217.525.3080
Sterling
Whiteside Reg. Off. of Education – 1001 W 23rd Street, Sterling, IL 61081, 815-625-1495
Stockton
Regional Superintendent of Schools – 500 N Rush St, Stockton, IL 61085-1033, 815-947-3810
Questions? Call Illinois state's office at 217-558-5668
Are adjustments required? We welcome your contributions. Please advise us on this contact page. Thank you.
How To Start
If you want to sign up for the GED exam you cannot already have a secondary education credential or be registered for a school program. Contact your nearest GED prep or testing site to find out if you can enroll in the GED program.
By the time you think you are ready to take on the GED test(s), go to MyGED at GED.com where you will be guided through the entire process. On taking the exam, be sure to be totally prepared. A pretty effective way to get all set is also available through this website's services: video lessons and practice tests that cost you nothing!
The GED exam contains four independent subtests. You can take one of these four tests (Math, Social Studies, Science, and Literacy) when you optimally prepared. The TASC or HiSET exams come with five subtests that may also be dealt with separately. Come to the GED exam prepared, take it confidently, and earn your GED credential. To obtain your Illinois High School Equivalency Certificate, you also need to pass the high school-level United States and State of Illinois Constitution exam, or present proof completion.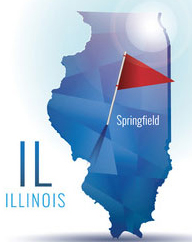 in order to take the high school equivalency test, you need to go personally to a testing site, the exam is just not offered online. Testing must be done in person at state-designated testing centers.
At your community bookstore, they surely have preparation materials, and you can find as well a lot of GED prep classes that offer preparation in your area often free of charge. Just check an area by clicking on a major city near you in the above list. This website also offers great and free online GED video instruction.
GED vs. HiSET/TASC
The Illinois Community College Board has approved that the HiSET and TASC exams can also be used in the state. The HiSET and TASC exams are available in both paper-delivered and computer-based formats and are less costly than the GED exam. After passing the four GED tests (or the five HiSET or TASC tests), and the Illinois Constitution Test, you'll be awarded the Illinois HSE (high school equivalency) Certificate. This credential will surely help improve your life as it allows for continued education in college, and offers better job opportunities. This page lists all facilities in key Illinois areas where you can attend GED courses to get ready for the exam. Choose a city near you.
Passing Scores
The GED (General Education Development) passing score is 145 so you need to score at least 580 points in total. Successful test-takers are also required to pay a $10 administrative fee to receive their certificate. GED scoring is done on a 100-200 scale. 100-144 is below-passing; 145-164 is high school equivalency; 165-174 is college-ready; and 175-200 is college-ready + up to 10 college credits.
The HiSET requires you to score (on a 1–20 score scale) at least 8 points on each of the five sub-tests and a combined score of no less than 45. Your essay must have a minimum score of 2 points. The TASC requires you to score no less than 500 (out of 800) on each of the five subtests and your essay must have no less than a 2-score.
Free GED online prep in Illinois
The difficulty level of the GED exam is comparable to that of a current high school diploma. Multiple-choice has for a great part disappeared in favor of essay-based answering. Critical reasoning and problem-solving are the focus elements of the GED exam. If a student needs some accommodation, please make a timely request at a testing center. There is no online testing option. You must come to an official Illinois testing facility. Don't forget to check our article about how to sign up for your GED exam with the online portal MyGED.
At the GED  exam, you are allowed the following time: English Language Arts: 150 minutes including a short break, Mathematical Reasoning: 115 minutes, Science: 90 minutes, and Social Studies: 70 minutes.
All across the state of Illinois, you can find GED preparation classes at adult education centers, libraries, or churches, that are mostly free of charge. More information and practice tests are available at GED.com, but our website also includes free GED practice tests. A great advantage of the new GED test is that you can register and schedule your tests online. Go to GED.com, or call 1-877-392-6433.
So now, in Illinois, three versions of the HSE (high school equivalency) exam are available in Illinois, though not at all testing centers. The ICCB announced that more and more testing sites are now offering multiple combinations of choices. The GED test costs $120 and offers practically immediate scoring results. The HiSET and TASC exams are available in computer-based and paper versions cost respectively $90 and $92 in Illinois.