Washington State is using the computerized GED® exam for high school equivalency (HSE) testing. HSE testing gives people who didn't finish high school the opportunity to acquire an equivalent degree.
There are four independent GED subtests in English Language Arts, Science, Math, and Social Studies.
The GED exam is modular meaning you can take one at a time. No need to sit for the four modules in one take.
All over Washington State, there are GED prep facilities where you can get become all set to take the GED exam successfully.
Online GED testing is NOT possible. You must come to an official Washington State testing site in person.
The GED exam is only available in a computer-based format. Paper-based testing is a thing of the past.
On each of the four GED subtests, you need to attain a score of no less than 145 and averaging is not possible.
GED Requirements In Washington State
In Washington, the minimum age is 16. However, applicants 16, 17, and 18 years of age must meet some pretty strict additional requirements. Please check with a testing center or a major prep site near you if that's the case.
GED testing in Washington State costs $150 for the complete exam ($37,50 for each individual subtest).
In Washington, GED testing is open only to state residents.
You cannot already hold a high school diploma or be signed up for some other education program.
GED Prep Classes In Washington State
You can prepare for the GED test by studying online but you may also choose to attend a traditional GED prep class in your area. Click on your city or a city near you to see all the GED prep locations in your region.
Washington GED Testing Centers
Aberdeen
Grays Harbor College – 1620 Edward P Smith Dr, Aberdeen WA 98520, 360-538-4049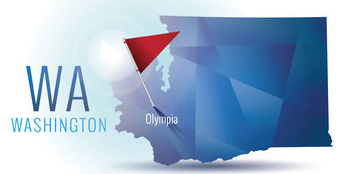 Auburn
Green River Community College – 12401 SE 320th St, Auburn WA 98092, 253-833-9111
Muckleshoot Tribal College – 39811 Auburn Enumclaw Rd SE, Auburn WA 98092, 253-876-3395
Tacoma
Bates Technical College – 1101 S Yakima Ave, Tacoma WA 98405, 253-680-7030
Bellevue
Bellevue College – 3000 Landerholm Circle B231K, Bellevue WA 98007, 425-564-5609
Bellingham
Northwest Indian College – 2522 Kwina Rd, Bellingham WA 98226, 360-392-4303
Technical College – 3028 Lindbergh Ave, Bellingham WA 98225, 360-752-8335
Whatcom Community College – 237 W Kellogg Rd, Bellingham WA 98226, 360-383-3052
Bremerton
Olympic College – 1600 Chester Ave, Bremerton WA 98337, 360-475-7238
Centralia
Centralia College – 600 W Locust, Centralia WA 98531, 360-736-9391 x216
Clarkston
Walla Walla Community College – 1470 Bridge St, Clarkston WA 99403, 509-758-1772
Colville
Colville Community College Center – 985 S Elm St, Colville WA 99114, 509-685-2120
Des Moines
Highline Community College – PO Box 98000, Des Moines WA 98198, 206-878-3710
Ellensburg
Central Washington University Testing Services – Ellensburg WA 98926, 509-963-1860
Everett
Everett Community College – 2000 Tower St, Everett WA 98201, 425-388-9288
Goldendale
Klickitat County Learning Center, 112 E Main St, Goldendale WA 98620, 509-773-5620
Grandview
Yakima Valley Comm. College – 500 W Main St, Grandview WA 98930-1284, 509-882-7000
Kirkland
Lake Washington Inst. of Technology – 11605 132nd Ave NE, Kirkland WA 98034, 425-739-8115
Lakewood
Pierce College – 9401 Farwest Drive S W, Lakewood WA 98498, 253-964-6521
Longview
Lower Columbia College – PO Box 3010, Longview WA 98632, 360-442-2311
Lynnwood
Edmonds Community College – 20000 68th Ave W, Lynnwood WA 98036, 425-640-1546
Morton
Centralia College East – 701 Airport Way, Morton WA 98356, 360-496-5022
Moses Lake
Big Bend Community College – 7662 Chanute St Bldg 1400, Moses Lake WA 98837, 509-793-2064
Mount Vernon
Skagit Valley College – 2405 College Way, Mount Vernon WA 98273, 360-416-7654
Newport
Spokane Community Coll.-Newport – 1204 W 5th St – Newport – WA 99156 – Ph: (509) 279.6954
Oak Harbor
Skagit Valley College Whidbey Branch – 1900 SE Pioneer Way, Oak Harbor WA 98277, 360-679-5330
Olympia
South Puget Sound Community College – 2011 Mottman Rd SW, Olympia WA 98512, 360-596-5238
Omak
Wenatchee Valley College – 116 W Apple Ave, Omak WA 98841, 509-422-7806
Pasco
Columbia Basin College – 2600 N 20th Ave, Pasco WA 99301, 509-547-0511
Port Angeles
Peninsula College – 1502 E Lauridsen Blvd, Port Angeles WA 98362, 360-417-6346
Pullman
Washington State University Test Services – 286 Lighty Student Services Bldg, Pullman WA 99164, 509-335-1744
Renton
Renton Technical College – 3000 North East Fourth St, Renton WA 98056, 425-235-2352
Seattle
North Seattle Community College – 9600 College Way N, Seattle WA 98103, 206-527-3600
Central Community College – 1701 Broadway, Suite 1106, Seattle WA 98122, 206-587-6915
Shoreline Community College – 16101 Greenwood Ave N, Seattle WA 98133, 206-546-4608
South Seattle Community College – 6000 – 16th Ave S W, Seattle WA 98106, 206-764-5349
United Indians of All Tribes Foundation – 3712 S Ferdinand St, Seattle WA 98118, 206-723-6288
Shelton
Olympic College – 937 Alpine Way, Shelton WA 98584, 360-432-5400
Spokane
Comm. Colleges of Spokane (Bldg 16, Rm 127) – 1810 N Greene St, Spokane WA 99217, 509.533.7074
Tacoma
Tacoma Community College – 6501 S 19th St, Tacoma WA 98466, 253-566-5093
Clover Park Technical College – 4500 Steilacoom Blvd, Bldg 17, Tacoma WA 98499, 253-589-6045
Vancouver
Clark College – 1933 Fort Vancouver Way, Vancouver WA 98663, 360-992-2588
Walla Walla 
Walla Walla Community College – 500 Tausick Way, Walla Walla WA 99362, 509-527-4267
Wenatchee
Wenatchee Valley College – 1300 Fifth St, Wenatchee WA 98801, 509-682-6830
Yakima
Yakima Valley Community College – S 16th Ave & Nob Hill Blvd, Yakima WA 98907, 509-574-4738
Questions? Call the Washington state GED test office at 360-704-4330
Should we make some updates? We appreciate your feedback. Please contact us here.  Thank you.
What Is The GED?
When you've passed all four GED subtests you will receive the GED diploma. This is a document that is across the nation accepted as the equivalency of a regular high school diploma. The GED program is developed to offer adults who did not complete high school another chance to show their skills at the level of high school seniors.
GED Preparation
Contact a GED (General Education Development) prep site near you to see if you qualify. You cannot already have a high school diploma or similar, and cannot be enlisted in a school program. If you qualify, learn about regulations, policies, and fees. Become as informed as can be and learn all about the qualification requirements.
Only take the GED exam when you are perfectly prepared. A pretest is a good idea as it will demonstrate your strong and weak points. Many public community technical colleges provide learning courses and materials and local bookstores and libraries can provide lots of GED study material,  and there are a few pretty good and free online prep courses as well. Also, use the free online GED video classes and practice tests published on this website.
Free GED Online Prep In Washington State
Online GED Testing?
The GED exam is not available via the internet. Test takers must come in-person to a state-approved GED testing site. If you happen to come across a website that gives you different information, you can be sure that the site is fraudulent. There just is NO online GED testing. The alternatives TASC and HiSET exams that are used in some states (not in Washington) cannot be done online as well! You can also check our post on how to sign up for the GED tests at MyGED.
GED Scoring
The passing score on each of the four GED modules is 145 so your overall minimum score is 580. The tests are measured on a 100-200 scoring scale.
100-144: below-passing
145-164: high school equivalency
165-174: college-ready score
175-200: college-ready plus college credit score
Your Future
Your GED certificate is your ticket to a great college education so please contact one of the facilities listed above by phone or email and get enrolled in one of the current courses or use our free online innovative instruction in the form of video prep classes and numerous practice tests in order to get all set fast. Online learning allows you to study at hours that suit you best and that fits your calendar.
Disclaimer: GED Testing Service owns the copyrights to GED and GED Ready. GED Testing Service is not involved in any publications on this website nor is it endorsing any of this content.
Last Updated on