New Jersey uses multiple options for HSE (high school equivalency) testing, the GED®, TASC™, and HiSET® exams. The GED is totally computer-formatted but also the HiSET and TASC must be taken on a computer in New Jersey.
HSE testing gives people who couldn't finish high school the opportunity to obtain an equivalent
degree.
Not all testing centers offer all options, so get well-informed. So also the CTB/McGraw-Hill TASC (Test Assessing Secondary Completion) and the HiSET (developed by ETS-Educational Testing Services) are not available on paper in New Jersey.
The GED includes four individual subtests (modules) in Math, Social Studies, Science, and English Language Arts that may be taken separately.
HiSET and TASC testing involve five subtests (Language has individual writing and reading tests) that may be taken separately as well.
Online GED, HiSET, and TASC testing is NO option. Testing must be done at state-designated testing centers.
New Jersey GED Requirements
In New Jersey, the minimum age is 16 but students 16 and 17 must meet more strict requirements so in that case, see a testing site near you.
Fee: $120 for GED (HiSET and TASC are cheaper).
New Jersey requires state residency.
Out-of-state GED test scores are valid in New Jersey.
You cannot have graduated from high school nor can you be attending another school program.
GED Prep Classes In New Jersey
You can prepare for the GED test by studying online. You may also choose to attend a traditional GED prep class in your region. Click on your nearest city to discover all prep sites in your area.
New Jersey HSE Testing Sites
Blackwood
Camden Co. College – College Dr, Blackwood, NJ 08012, 856.227.7200 x 4180
Branchburg
Raritan Valley Comm. Coll – 118 Lamington Rd, Branchburg, NJ 08876, 908.526.1200 x 8422
Cape May Court House
Technical School – 188 Crest Haven Rd, Cape May Court House, NJ 08210, 609-465-2161 x 645
Denville
Morris Co. School of Technology – 400 E Main St, Denville, NJ 07834, 973-627-4600 x 245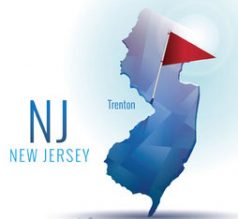 Edison
Community Learning Ctr at Roosevelt – 1 Roosevelt Dr, Edison, NJ 08837, 732-321-2201
Elizabeth
Union Co. College – 12-24 W Jersey St, Elizabeth, NJ 07202, 908-659-5154
Hackensack
Bergen Co. Tech School – 11 Carol Crt, Hackensack Avenue, Hackensack, NJ 07601, 201.343.6000 x 2293
Bergen Community College – 355 Main St, Hackensack, NJ 07601, 201-301-9655
Hamilton Township
Hamilton Ad. School – 90 Park Ave, Hamilton Township, NJ 08690, 609.631.4100 x 3055
Iselin
Lincoln Technical Institute – 675 Route 1, Iselin, NJ 08830, 732-548-8798 x 42103
Jersey City
AVNA Learning Center – 26 Journal Sq – Ste 803 – Jersey City – NJ 07306, Ph: (201) 809.9230
Lincroft
Brookdale Community College – 765 Newman Springs Rd, Lincroft, NJ 07738, 732-224-2584
Long Branch
Brookdale Community College – 213 Broadway, Long Branch, NJ 07740, 732-229-8440 x 1505
Newark
American Inst. of Professional Studies – 24 Commerce St – Ste 302 – Newark – NJ 07102 – Ph: (862) 240.1284
La Casa de Don Pedro – 39 Broadway, Newark, NJ 07107, 973-481-4568
Essex Co. Coll. – 303 University Ave, Newark, NJ 07102, 973.877.3093
New Brunswick
New Brunswick Adult Education TASC – 268 Baldwin St, New Brunswick, NJ 08901, 732.745.5300 x 4105
Newton
Sussex Co. Community College – 1 College Hill, Newton, NJ 07860, 973-300-2155
Nutley
M. Eastwick College – 103 Park Ave – Nutley – NJ 07110 – Ph: (973) 661.0600
Paramus
Devry University-Paramus (35 Plaza, 3rd Fl) – 81 E State Rte 4 – Paramus – NJ 07652 – Ph: (201) 556.2840
Paterson
Adult & Cont. Education Ctr – 151 Ellison St, Paterson, NJ 07505, 973-321-0760 x27624
Pennsville
Mid-Atlantic States Career & Ed. Ctr (HiSET) – 111 S Broadway – Pennsville – NJ 08070, 856.514.2200
Perth Amboy
Perth Amboy Adult Education TASC – 178 Barracks St, Perth Amboy, NJ 08861, 732-376-6243
Plainfield
Plainfield Publ. Library Literacy Department – 800 Park Ave, Plainfield, NJ 07060, 908-757-1111 x 122
Pleasantville
Atlantic Co. One-Stop – 2 South Main St, Second Floor, Pleasantville, NJ 08232, 609-485-0052 x 140
Salem
Mid-Atlantic States Career & Ed. Ctr (HiSET) – 31 Oak St – Salem – NJ 08079, 856.514.2200
Sewell
Gloucester Co. College – 1400 Tanyard Rd., Sewell, NJ 08080, 856.468.5000 x6228
Springfield
Elite Medical Transportation & Training – 100 Morris Ave – Ste 203-C – Springfield – NJ 07081 – Ph: (973) 500.8268
Toms River
Ocean Co. College – 1 College Dr, Toms River, NJ 08754, 732-255-0530
Trenton
Mercer Co. Comm. Coll. – Kerney Campus, 102 N Broad St, Ste 118, Trenton, NJ 08608, 609.570.3185
Juvenile Justice Commission – 1001 Spruce St, Trenton, NJ 08638, 609.943.4931
New Jersey Dept. of Corrections – Whittlesey Rd, Trenton, NJ 08625, 609-292-8245
Union City
Chrome Institute – 4900 Bergenline Ave – 2nd Fl – Union City – NJ 07087 – Ph: (201) 349.2129
Vineland
Adult Learning Ctr – 610 E Montrose St, Vineland, NJ 08360, 856-794-6943
Washington
Warren Co. Technical School – 1500 Rt 57 W, Washington, NJ 07882, 908-835-2480
Willingboro
Burlington Co. College – 300 Willingboro Pkwy, Willingboro, NJ 08046, 609-877-4520 x 3000
New Jersey Department of Education (High School Equivalency Office) P.O. Box 500, Trenton, NJ 08625-0500, Ph: 609-777-1050
Are perhaps some updates or adjustments required? We welcome your contributions. Please advise us here. Thank you.
GED, HiSET, TASC Passing Scores
It is the mission of testing centers to assess the academic skills of test-takers and to provide them with information for appropriate placement and advising. By doing this they will enhance the students' opportunities to achieve academic success in college and enhance their employment options.
The GED is measured on a scale that runs from 100 to 200. On each of the four GED subtests (Math, Literacy, Social Studies, Science) you need to get a score of at least 145.
Passing score: 145-164 (high school equivalency)
College-ready score: 165-174
College-ready Plus college credit score: 175-200
TASC and HiSET
The minimum TASC passing score is 500 on each of the five sub-tests (Writing, Reading, Math, Science, and Social Studies).
There is one additional requirement on the essay part: you must attain at least a 2 out of the possible 8. The HiSET passing criteria are that you score at least 8 (out of 20) on each of the 5 sub-tests, score at least 2 out of 6 points on your essay, and achieve no less than 45 (out of 100) overall.
Free GED Online Prep In New Jersey
Prepare Well
Contact a GED prep or test center near you to find out if you qualify, or go to GED.com and sign up with MyGED. You should not already have a high school diploma or similar, and you cannot be signed up for any school program. If you qualify, check testing dates and fees, and see which test is used. The program is open to any student of any age as long as they meet minimum age and other requirements.
Get optimally informed. Find out all requirements and regulations at the GED test center or find a good online prep program. Prepare well and use one of the programs and study methods that fit you best to become all set to pass the test. A pre-test will indicate what sectors you need to pay extra attention to. Local bookstores and libraries can provide study materials, and you can find many online preparation classes as well, but all over New Jersey, there are locations where, often at no cost at all, preparation classes are offered.
GED And The Economy
In the contemporary employment market, you really need to have at least have a high school or equivalent diploma. In case never completed high school, earning a GED (General Education Development) diploma is a great alternative to secure a well-paying and rewarding job.
This is particularly the case in New Jersey where every year, tens of thousands of new job opportunities are created that require a secondary education degree. In the last few years, the New Jersey Healthcare and Education sectors created more than 24,000 new jobs annually of which the majority were positioned at entry-level!
Visit also job fairs and education or business events and try to get all the support you can and request answers to all of your questions may from public education officials in your county to get all set. Once you've passed the hurdle of lacking a secondary education degree, a fine career and a college education are awaiting you so take advantage of our online support (free practice tests and innovative video lessons), a great help to get there fast!
Your Future
Get your GED diploma as it will be your first step toward a better paying job, a new career, or your ticket to higher education. In the last decade, the state of New Jersey issued over 75,000 GED diplomas. This proves that the GED program provides the best appreciated and most popular alternative to a regular high school diploma.
If you would like to keep up with economic developments, get a good job and find a better way of life, invest in a great education by taking on the GED test right now by attending prep classes. If you want to sit for the set of four GED tests in New Jersey, or for one of the available alternatives, you must be at least 18 years of age (for 16 and 17-year-olds, parental permission and a withdrawal document from your former school are required), not have a secondary school credential, and be a resident of New Jersey.
On January 1, 2014, New Jersey changed the system for the state's high school equivalency testing. New Jersey has decided to use multiple tests for people who want to earn a state-issued equivalency to a high school diploma. Each individual testing center determines which test(s) to offer in that center.
In New Jersey, high school equivalency testing is only possible on a computer, no more paper-based testing! Only applicants who need special accommodation (for example a medical reason), can take the exam in a paper-based format. The high school equivalency exam must be taken at one of New Jersey's official testing centers, online testing is NOT possible. State officials say New Jersey is the first state to entirely make the switch to computer-based HSE testing.
Most of the time, it's better if you would take a pre-test to discover your weak and strong points. When you are well prepared, you can take the High School Equivalency (HSE) exam at one of the official testing sites in New Jersey. After passing the exam you will be awarded the HSE certificate or diploma. The GED exam includes four tests that cover these subject areas: Literacy, Social Studies, Science, and Math.
The TASC and HiSET exams have five tests as the Literacy section is split up into separate writing and reading tests. These two alternatives are cheaper than the GED test. In New Jersey, the GED modules may be taken separately. This is also the case with the HiSET and TASC exams.
Last Updated on