Missouri is using the HiSET for the state's high school equivalency (HSE) testing program. HSE testing gives persons who didn't complete high school the chance to acquire an equivalent credential.
The HiSET contains five subtests in the fields of Social Studies, Math, Science, Language Reading, and Language Writing.
HiSET testing is now free to first-time test-takers. The normal cost of HiSET testing in Missouri is $98.75.
In 2019, Missouri passed legislation to waive those costs for first-time applicants.
This also includes the $60 registration fee that allows students to test three times in a 12-month period. Retesting is $7 per section.
Students who fail to pass the test the first time have the option to retake the entire test, or any of the test sections, two more times within that 12-month period.
The five subtests may be taken individually and all across Missouri, you will find quite a few locations where HiSET prep classes are offered, often for free.
To take the exam you need to show up in person at an official testing site, the HiSET and GED are not offered online.
GED Missouri Requirements (HiSET)
In Missouri, you must be at least 16 years old to take the HiSET, though, for 16-year-olds, there are more restrictions – see a testing site close to you.
First, you need to obtain an Application for Missouri Certificate of High School Equivalency, which is available at most high school guidance offices, public libraries, GED testing sites, and all Adult Education and Literacy (AEL) centers.
As applicants do not need to take the entire test at one time, students can take the test in sections. The HiSET in Missouri is only for state residents.
When you go to a testing center to sit for the exam, please remember to bring a valid state-issued photo ID!
Test-takers must score at least 8 out of 20 on each of the five HiSET subtests and no less than 2 (out of a possible 6) on the essay part. The overall score on all five subtests must be at least 45.
GED Prep Classes In Missouri (HiSET)
You can prepare for the HiSET test by studying online. You can also choose a traditional GED-HiSET prep class near you. Select your nearest city to see all the prep locations in your area.
Missouri GED Testing Centers (HiSET)
Blue River
Metropolitan Comm. College – 20301 E 78 Hwy, Blue River, MO 64057, 816-604-6777
Cape Girardeau
SE Missouri State University – 1333 Sprigg St, Cape Girardeau, MO 63701, 573-651-2836
Columbia
University of Missouri – S Sixth St, Columbia, MO 65211, 573-882-4801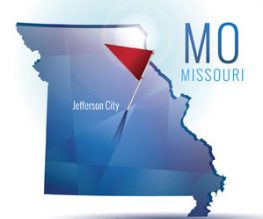 Cottleville
St. Charles Comm. College – 4601 Mid Rivers Mall Dr, Cottleville, MO 63376, 636-922-8629
Dexter
Three Rivers College – 515A W Market Street, Dexter, MO 63841, 573-840-9667
Fort Leonard Wood
Truman Education Center – 268 Constitution Street, Fort Leonard Wood, MO 65473, 573-596-0172 x 30
Hannibal
Hannibal Career & Tech Ctr, 4550 McMasters Ave, Hannibal, MO 63401, 573-221-4430 x 3001
MACC- Hannibal Area Higher Ed. Ctr. – 190 Shinin Ln, Hannibal, MO 63401, 573-231-0941
Hannibal-LaGrange College – 2800 Palmyra Rd, Hannibal, MO 63401, 573-221-3675
Hillsboro
Jefferson College – 1000 Viking Dr, Hillsboro, MO 63050, 636-797-3000 x 154
Jefferson City
Lincoln University – 824 Chestnut St (Rm 119-Stamper Hall), Jefferson City, MO 65101, 573-681-5194
Joplin
Missouri Southern State University – 3950 E Newman Rd, Joplin, MO 64801, 417-625-9324
Longview
Metropolitan Community College – 500 SW Longview Rd, Longview, MO 64081, 816-604-2661
Maple Woods
Metropolitan Community College – 2601 NE Barry Rd, Maple Woods, MO 64156, 816-604-3200
Maryville
Northwest Missouri State University – 800 University Dr, Maryville, MO 64468, 660-562-1220
Moberly
Area Community College – 101 College Avenue, Moberly, MO 65270, 660-263-4110 x278
Neosho
Crowder College – 601 Laclede, Neosho, MO 64850, 417-455-5521
Park Hills
Mineral Area Coll.- Arts and Sciences Bldg, Rm C-6, Park Hills, MO 63601, 573 – 518-2202
Penn Valley
Metropolitan Comm. College – 3201 SW Trafficway, Penn Valley, MO 64111, 816-604-4433
Poplar Bluff
Three Rivers Comm. College – 2080 Three Rivers Blvd, Poplar Bluff, MO 63901, 573-840-9667
Sikeston
Three Rivers College – 1400 S Main St, Sikeston, MO 63801, 573-472-5223
Springfield
Missouri St. University – 901 S National, Springfield, MO 65897, 417-836-5116
Ozarks Tech Comm. Coll. – 1001 E Chestnut Expressway, Springfield, MO 65802, 417-447-6982
St. Joseph
Missouri Western State University – 4525 Downs Dr, St. Joseph, MO 64507, 816-271-4327
Hillyard Technical Center – 3434 Faraon St, St. Joseph, MO 64506, 855-694-4738
St. Louis
Harris-Stowe State University – 3026 Laclede Ave, St. Louis, MO 63103, 314-340-3654
Comm. College at Forest Park – 5600 Oakland Ave, St. Louis, MO 63110, 314-644-9233
St. Louis University – 3840 Lindell Boulevard, St. Louis, MO 63108, 314-977-2963
Trenton
North Central Missouri College – 1301 N Main St, Trenton, MO 64683, 660-359-3948
Union 
E. Central College – 1964 Prairie Dell Rd, Union, MO 63084, 636-583-5195 x 2364
Warrensburg
Univ. of C. Missouri – Ward Edwards Bldg, Rm 1114, Warrensburg, MO 64093, 660-543-4919
West Plains
Missouri State University – 128 Garfield, West Plains, MO 65775, 417-255-7940
Questions? Call Missouri's state office at 573-751-3504
Are adjustments required? We highly appreciate your contributions. Please inform us here on our contact page. Thank you!
GED And HiSET – How To Start
A few years back, Missouri's Department of Elementary and Secondary Education decided to use a new high school equivalency test, the HiSET exam developed by the non-profit organization Educational Testing Service (ETS). The HSE (High School Equivalency) exam can only be taken by individuals who never completed high school and who are not registered for a school program.
GED-HiSET Testing Tips
When you think you are ready to take the HiSET route, please stick to these guidelines and get ahead: Contact the staff at a HiSET preparation or testing site close to you and see whether you qualify. If you do so, find out the testing dates and fees. Be well informed. Check requirements and regulations at your nearest HiSET test center if you want to earn your secondary education degree.
When taking the exam, appear at a testing site properly prepared. Your local library or bookstore can supply materials, and you can find many facilities close to you that offer HiSET preparation classes at no cost.
Check also this site's free video lessons. Online learning allows you to study in accordance with your calendar but requires well-developed self-discipline. Whatever your preferred way of preparation, appear at the exam well-prepared, pass the exam, and get your diploma.
The HSE (high school equivalency) program is created to give adults who never finished high school one more chance to obtain an equivalent diploma which is recognized across the nation.
Free GED Online Prep In Missouri (HiSET)
Get Ready For The Missouri HiSET Test
A lot of people have muddled through most of their lives in dead-end jobs that they hate. Get your GED or HiSET diploma when you've finally decided to buckle down, gain some insight and do something that you enjoy. For many older adults, a career change is a necessity as they are no longer physically able to continue in their field. There are five HiSET testing subject areas that cover Language Writing, Language Reading, Mathematics, Social Studies, and Science.
Professional athletes find themselves in this conundrum quite often. Likewise, stay at home parents often find themselves in situations where they are inspired to do something more with their lives. There is a wide variety of reasons for adults to make a career change and it happens more often than you would think. With your secondary education degree, you may qualify for well-paying jobs and who knows, maybe at the business you always dreamed about.
Go To College
Getting your HiSET diploma will improve your employment options and allow you to get into college or university. Just view academic programs offered by your preferred school and learn all about prerequisites and admissions policies. Listed in this article are all facilities in main Missouri regions where HiSET preparation classes are offered.
After passing the exam, you will receive the HSE (High School Equivalency) diploma or certificate, and this document is recognized as equivalent to a high school diploma by practically all U.S. employers, government agencies, and colleges and universities. You can apply to a study program by email or maybe get informed first if you want to contact a graduate student or request more information from a school so you can review their programs.
Jobs With A GED Or HiSET Diploma
Your personal incentive in getting your GED (General Education Development) credential is obviously to land a better job or advance your education towards a career. Choosing a career is commonly thought of as something a young person does but it actually happens across all age groups. It is an important, difficult decision and should not be made lightly.
The perfect career can enhance your life and make you happy at any age. There is nothing more fulfilling than a job that you do well and you love doing. For many people, the correct choice is made relatively late in life.
Nowadays, the average worker will change careers 2 to 5 times before they retire and some people actually use retirement as a career change. Often times, taking the GED or HiSET exam is the first step in this change and it happens in all age groups. Your dream job may be just ahead of you. Isn't it time you landed it?
This website offers you free support services in the form of great practice tests and innovative video lessons, an efficient way of learning fast! Just visit this website's online classes by clicking on the links. GED Testing Service holds the copyright and all other rights reserved for GED and the GED Ready Test and is not involved in this Missouri information or in any other information on this website.
Last Updated on