In Missouri, students can take the five HiSET subtests online or at one of Missouri's official HiSET test centers.
To register for the exam, candidates must create an account via hiset.ets.org.
Missouri is using the HiSET exam for the state's high school equivalency testing program. The exam gives persons who didn't complete high school the chance to acquire an equivalent credential.
The HiSET® exam contains five subtests in the fields of Social Studies, Math, Science, Language Reading, and Language Writing.
Testing takes place at a level that compares to that of high school students upon graduation.
Applicants can retest three times in a 12-month period.
Students who fail to pass the test the first time have the option to retake the entire test, or any of the test sections, two more times within that 12-month period.
The five subtests may be taken individually, and all across Missouri, you will find quite a few locations where HiSET prep classes are offered, often for free.
GED Missouri Requirements (HiSET)
To earn a Missouri Certificate of High School Equivalence, a person must be a resident of Missouri (with a Missouri mailing address) and meet one (1) of the following requirements:

Be seventeen (17) years of age or older;
Be currently enrolled in school and qualify as a participant in an approved Missouri Option Program for at-risk youth;
Be withdrawn from school, have successfully completed sixteen (16) units of credit toward high school graduation, and have written confirmation of course completion from the superintendent of schools where the most recent high school graduation credits were earned; or
If home-schooled, have met the requirements of section 167.031, RSMo, for course instruction, and have written permission of the parent or legal guardian.
Missouri does not require HiSET testers to first take and pass the official HiSET Practice Test.
As applicants do not need to take the entire test in one session, they can take the five sub-exams one (or more) at a time. When you go to a testing center to sit for the exam, please remember to bring a valid state-issued photo ID! And this, of course, also applies to the online HiSET exam.
GED Prep Classes In Missouri (HiSET)
You can prepare for the HiSET test by studying online. You can also choose a traditional GED or HiSET prep class near you. Select your nearest city to see all the prep locations in your area.
Missouri GED Testing Centers (HiSET)
Arnold
Jefferson Coll.-Arnold – 1687 Missouri State Rd – Arnold – MO 63010 – Ph: (636) 481.3154
Blue Springs
Paul Consiglio Ctr (Blue Springs SD) – 1501 NW Jefferson St – Blue Springs – MO 64015 – Ph: (816) 874.3344
Cape Girardeau
Southeast MO State University – 929 Normal Ave – Cape Girardeau – MO 63701 – Ph: (573) 651.2000
Cassville
Crowder College – 4020 N Main St – Cassville – MO 65625 – Ph: (417) 847.1706
Columbia
University of Missouri (4 Parker Hall) – S Sixth St – Columbia – MO 65202 – Ph: (573) 882.4801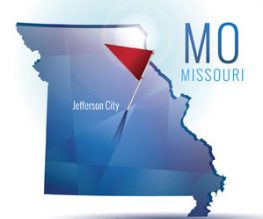 Cottleville
St. Charles Comm. Coll. – 4601 Mid Rivers Mall Dr – Cottleville – MO 63376 – Ph: (636) 922.8629
Dexter
Three Rivers College – 515A W Market St – Dexter – MO 63841 – Ph: (573) 840.9667
Eolia
Pike-Lincoln Technical Ctr – 342 VoTech Rd – Eolia – MO 63344 – Ph: (573) 485.2900
Hannibal
MACC Hannibal – 190 Shinin Ln – Hannibal – MO 63401 – Ph: (573) 231.0941
Hillsboro
Jefferson College – 1000 Viking Dr – Hillsboro – MO 63050 – Ph: (636) 481.3147
Independence
MCC-Blue River – 20301 MO Hwy 78 – Independence – MO 64057 – Ph: (816) 604.1000
Jefferson City
Lincoln University – 824 Chestnut St – Jefferson City – MO 65101 – Ph: (573) 681.5194
Joplin
Missouri Southern State – 3950 E Newman Rd – Joplin – MO 64801 – Ph: (417) 625.9595
Kansas City
MCC (Business & Technology Ctr) – 1775 Universal Ave – Kansas City – MO 64120 – Ph: (816) 604.1000/5434
MCC (Maple Woods Ed. Center – 2601 NE Barry Rd – Kansas City – MO 64156 – Ph: (816) 604.1000/5434
MCC (Penn Valley) – 3201 SW Trafficway – Kansas City – MO 64111 – Ph: (816) 604.1000/5434
Kennett
Three Rivers CC – 1002 Great West Dr – Kennett  – MO 63857 – Ph: (573) 840.9667
Kirksville
Kirksville Area Tech – 1103 S Cottage Grove – Kirksville – MO 63501 – Ph: (660) 665-2865
Lee's Summit
MCC-Longview  – 500 SW Longview Rd, Lees Summit – MO 64081 – Ph: (816) 604.1000
University of Central MO – 1101 NW Innovation Pkwy – Lee's Summit – MO 64086 – Ph: (660) 543.6626
Maryville
Northwest Technical School – 1515 S Munn Ave – Maryville – MO 64468 – Ph: (660) 562.3022
Mexico
MACC-Mexico – 2900 Doreli Ln – Mexico – MO 65265 – Ph: (573) 582.0817 x 13615
Moberly
Moberly Area Comm. Coll. – 101 College Ave – Moberly – MO 65270 – Ph: (660) 263.4100
Neosho
Crowder College – 601 Laclede Ave – Neosho – MO 64850 – Ph: (417) 455.5433
Nevada
Nevada Regional Tech – 900 W Ashland St – Nevada – MO 64772 – Ph: (417) 448.2090 x 223
Park Hills
Mineral Area Coll. – Arts & Sciences Bldg – Park Hills – MO 63601 – Ph: (573) 431.4593/518.2202
Poplar Bluff
Three Rivers Comm. Coll. – 2080 Three Rivers Blvd – Poplar Bluff – MO 63901 – Ph: (573) 840.9667
Rolla
East Central College – 500 Forum Dr – Rolla – MO 65401 – Ph: (573) 466.4100
Sedalia
State Fair Comm. Coll. – 3201 W 16th St – Sedalia – MO 65301 – Ph: (660) 530.5818
Sikeston
Three Rivers College – 1400 S Main St – Sikeston – MO 63801 – Ph: (573) 472.5223
Springfield
Missouri State University – 901 S National Ave – Springfield – MO 65897 – Ph: (417) 836.5116
Ozarks Tech Comm. Coll. – 1001 E Chestnut Expwy -Springfield – MO 65802 – Ph: (417) 447.8187
Lakeland Behavioral Health System – 440 S Market Ave – Springfield – MO 65806 – Ph: (417) 221.4854
St. Joseph
Hillyard Technical Ctr – 3434 Faraon St – St. Joseph – MO 64506 – Ph: (855) 671.4170
St. Louis
Harris-Stowe State University – 3026 Laclede Ave – St. Louis – MO 63103 – Ph: (314) 340.3654
St. Louis Comm. Coll.-Forest Park – 5600 Oakland Ave – St. Louis – MO 63110 – Ph: (314) 644.9257
St. Louis Comm. Coll.-Florissant Valley – 3400 Pershall Rd – St. Louis – MO 63135 – Ph: (314) 513.4424
Trenton
North Central MO College – 1301 N Main St – Trenton – MO 64683 – Ph: (660) 359.3948
Union 
East Central College | 1964 Prairie Dell Rd | Union | MO 63084 | Ph: (636) 584.6550
Warrensburg
Univ. of Central MO – 108 W South St – 108 W South St, Warrensburg, MO 64093, Ph: (660) 543.4919
Waynesville
Ozarks Tech Comm. Coll. – 600 GW Ln – Waynesville | MO 65583 | Ph: (573) 774.5061
West Plains
Missouri State University – 304 W Trish Knight St – West Plains – MO 65775 – Ph: (417) 255.7943
Are adjustments required? We highly appreciate your contributions. Please inform us here on our contact page. Thank you!
Missouri HiSET Online
You have the option to take the HiSET exam at one of Missouri's state-designated testing facilities, or you can take the exam in an online proctored format, the "HiSET-At-Home" test.
HiSET Scoring
The HiSET exam is scored on a 0 to 20 scale. Test-takers must score at least 8 out of 20 on each of the five HiSET subtests and no less than 2 (out of a possible 6) on the essay part. The overall score on all five subtests must be at least 45, and this does not include the essay score.
HiSET Price
In Missouri, the five individual HiSET subtests come at the following cost when taken at a test center:
Each subtest costs, when computer-based, $17.75 ($10.75 for ETS and $7 for the test center), so $98.75, including a $10 registration fee.
Each subtest costs, when paper-based, $22 ($15 for ETS and $7 for the test center), so $120, including a $10 registration fee.
The registration fee is an annual $10 state administration fee due upon registration.
You have two retests per subject test that are offered at a reduced fee (just a $7 fee for the test center).
The Missouri Online HiSET Exam at Home costs $151.25 for all five subtests.
Online Proctored HiSET Exam
As stated earlier, there is now also the option to take the HiSET exam online. Until recently, that was no such option available, but the times are changing. To learn more, check out this page: HiSET proctored online test. As said earlier, in Missouri, the online HiSET Exam at Home testing fee is $151.25 for the five subtests.
GED And HiSET – How To Start
A few years back, Missouri's Department of Elementary and Secondary Education decided to use a new high school equivalency test, the HiSET exam, developed by the non-profit organization Educational Testing Service (ETS).
You can benefit from attending a physical class at one of Missouri's many prep facilities, and your community library and book store will also have lots of prep material. You may also benefit from a good online prep course, and this website published free practice tests and video lessons as well, courtesy of Onsego GED Prep. Bear in mind, though, that online learning requires some decent self-discipline!
HiSET Testing Tips
When you think you are ready to take the HiSET route, please stick to these guidelines and get ahead: Contact the staff at a HiSET preparation or testing site close to you and see whether you qualify.
If you do so, find out the testing dates and fees. Be well informed. Check requirements and regulations at your nearest HiSET test center if you want to earn your secondary education degree.
When taking the exam, appear at a testing site properly prepared, and this also counts, of course, when you take the exam online. As said earlier, your local library or bookstore can supply materials, and you can find many facilities close to you that offer HiSET preparation classes at no cost.
Check also our free online support. Online learning allows you to study in accordance with your calendar but requires well-developed self-discipline. Whatever your preferred way of preparation, appear at the exam well-prepared, pass the exam, and get your diploma. Learn all about our free HiSET video lessons here.
The HSE (high school equivalency) program is created to give adults who never finished high school one more chance to obtain an equivalent diploma which is recognized across the nation.
Free GED Online Prep In Missouri (HiSET)
What's On The HiSET Exam?
There are five HiSET testing subject areas that cover Language Writing, Language Reading, Mathematics, Social Studies, and Science. You can take the five HiSET sub-exams one (or more) at a time if you wish.
The level of testing compares to what high school seniors are supposed to command upon graduation. So you'll understand that getting properly prepared is the key to your success on this rather challenging assessment.
Go To College
Getting your HiSET diploma will improve your employment options and allow you to get into college or university. Just view academic programs offered by your preferred school and learn all about prerequisites and admissions policies. Listed in this article are all facilities in Missouri regions where HiSET preparation classes are offered.
After passing the exam, you will receive the HSE (High School Equivalency) diploma or certificate, and this document is recognized as equivalent to a high school diploma by practically all U.S. employers, government agencies, and colleges and universities. You can apply to a study program by email or maybe get informed first if you want to contact a graduate student or request more information from a school so you can review their programs.
Jobs With A GED Or HiSET Diploma
Your personal incentive in getting your GED (General Education Development) or HiSET (High School Equivalency Test) credential is obviously to land a better job or advance your education towards a career.
Choosing a career is commonly thought of as something a young person does, but it actually happens across all age groups. It is an important, difficult decision and should not be made lightly.
The perfect career can enhance your life and make you happy at any age. There is nothing more fulfilling than a job that you do well and love doing. For many people, the correct choice is made relatively late in life.
Nowadays, the average worker will change careers 2 to 5 times before they retire, and some people actually use retirement as a career change. Oftentimes, taking the GED or HiSET exam is the first step in this change, and it happens in all age groups. Your dream job may be just ahead of you. Isn't it time you landed it?
This website offers you free support services in the form of great practice tests and innovative video lessons, an efficient way of learning fast! Just visit this website's online classes by clicking on the links. Missouri residents can now also earn their high school diploma for free if they quality and have a reliable internet connection.
For more information:
Missouri Department of Elementary & Secondary Education
High School Equivalency Office
205 Jefferson Street
Jefferson City, MO 65101
Phone: 573.751.1249
Fax: 573.526.5710
Email: hse@dese.mo.gov
FAQ About GED In Missouri
How to get a GED in Missouri?
Missouri is using the HiSET exam for high school equivalency testing. A few years back, the state said goodbye to the GED. To earn the Missouri HSE diploma, you'll need to pass the five individual tests that the HiSET exam consists of. These five tests are covering the subject areas of Math, Reading, Writing, Social Studies, and Science.
What are the Missouri GED testing requirements?
The HiSET and GED exams are for adults who never finished high school. To qualify for the HiSET exam in Missouri, students less than 17 years old must have completed no less than 16 units of credit toward their high school graduation. In Missouri, students must be state residents to earn a high school equivalency certificate, and test-takers are not required to pass the HiSET OPT (Official Practice Test), except when taking the HiSET online.
What is the GED cost in Missouri?
The Missouri HiSET exam costs $98.75 (computer-based) or $120 (paper-based) for the entire battery, but you can take and pay for the five subtests one at a time. In an online proctored format, the HiSET exam is offered on a computer only and will set you back $151.25 for the entire HiSET battery.