In Connecticut, GED test-takers can sit for the four individual GED subtests online or at one of Connecticut's official test centers.
The state of Connecticut uses the computer-based GED exam for its high school equivalency testing program.
Online GED Classes – Fast and Easy
Prepare Quickly To Pass The GED Test.
Get Your Diploma in 2 Months.
To sit for the exam, applicants must create their account on the website GED.com. BestGEDClasses.org only offers free support in the form of video lessons and practice tests.
GED® testing gives persons who didn't finish high school the chance to obtain an equivalent degree.
The four GED testing subject fields are
Social Studies
Math
Science
English Language Arts
The passing score on each subtest is 145 on a scale that runs from 100 to 200:
100-144: Below Passing Score
145-164: High School Equivalency Score
165-174: College-Ready Score
175-200: College-Ready PLUS College Credit Score
You have the option to take one of the four modules at a time and in any preferred order.
Online GED Classes-Fast, Simple and Cheap
Get Your GED Diploma in 2 Months.
A Customized Plan To Help You Get Your Diploma Fast & Easy.

The GED registration fee in Connecticut is $13.00 (under 21 and veterans: free), regardless of whether you take the exam at a test center or online.
GED – Connecticut Requirements
You must be at least 19 years old, but 17 or 18-year-old applicants may qualify if they meet additional requirements. See a testing site near you.
Connecticut residency is required.
You cannot have a secondary degree or be active in another education program.
When you already hold a secondary degree, you will not be allowed into the GED program.
In Connecticut, you get two retakes per subject at a reduced rate if you take these retakes within one year. This does NOT apply to online testing.
There is a 60-day waiting period before you can retake any failed subtest. You can retake any GED subtest no more than three times per year.

In Connecticut, ALL GED testers must first take the GED Ready

practice test. This applies to both online and on-site testing.
Connecticut GED Prep Classes
You can prepare for the GED test by studying online, or you can choose a traditional GED prep class near you. Click on your city or a city near you to see all the prep facilities in your area.
The state offers many facilities (Adult Learning Centers) where GED preparation classes are organized to help you become totally prepared to take the Connecticut GED exam with confidence.
GED Testing Centers in Connecticut
Branford
Shoreline Adult Education – 185 E Main St – Branford – CT 06405 – 203-488-5693
Bridgeport
Career Resources, Inc. – 350 Fairfield Ave – Bridgeport – CT 06604, 203-610.8676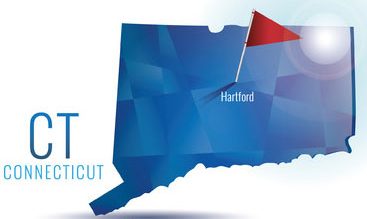 Bristol
Bristol Adult Education – 210 Redstone Hill Rd – Bristol – CT 06010 – 860.584.7865
Danbury
Western Regional Adult Education – 43 Clapboard Ridge Rd – Danbury – CT 06811, 203.797.4731
Danielson
EASTCONN Adult Ed. – 562 Westcott Rd – Danielson – CT 06239, 860-779-3770
East Hartford
East Hartford Adult Ed. – 869 Forbes St – East Hartford – CT 06118 – 860.622.5355
East Haven
East Haven Adult Ed. – 290 Dodge Ave – East Haven – CT 06512, 203.468.3796
Enfield
Enfield Adult Education – 124 N Maple St – Enfield – CT 06082, 860-763-7033
Hartford
Hartford Adult Education – 110 Washington St, Hartford, CT 06106 – 860-695-8540
Hartford Public Library – 500 Main St –  Hartford – CT 06103, 860-695-6334
Capitol Region Ed. Council – 55 Van Dyke Ave – Hartford – CT 06106, 860-524-4046
Litchfield
EdAdvance GED Testing – 355 Goshen Rd – Litchfield – CT 06759 – 860.567.0863
Manchester
Manchester Adult Ed. – 134 E Middle Turnpike (Portable Bldg) – Manchester – CT 06040, 860-647-5075
Middletown
Middletown Adult Ed. – 398 Main St – Middletown, CT 06457, 860-343-6044
New Haven
New Haven Adult & Continuing Ed. – 580 Ella Grasso Blvd – New Haven – CT 06519, 203-492-0213
New London
New London Adult Education –  Shaw's Cove 3 – New London – CT 06320, 860-437-2385
Norwich
Norwich Adult Education – 191 Hickory St – Norwich – CT 06360, 860-823-4299
Old Saybrook
Middletown Adult Ed. (Old Saybrook) – 210 Main St – Old Saybrook – CT 06475, 860-388-1281
Vernon
Rockville Education Center – 33 W Main St – Vernon – CT 06066, 860-870-6060
Waterbury
Waterbury Adult Education – 11 Draher St – Waterbury – CT 06708, 203-574-8038
Willimantic
EASTCONN – 1320 Main St – Tyler Sq – Ste 25 – Willimantic – CT 06226, 860-423-2591
Windsor
Windsor Adult Education – 601 Matianuck Ave – Rm 9 – Windsor – CT 06095, 860-687-2000
If this page requires adjustments or updates, please advise us on our information page. Your feedback is highly appreciated!
Online GED Testing
The four GED modules can be taken over the Internet or at one of Connecticut's official GED test centers. Until recently, you needed to show up at a state-approved GED testing site if you wanted to earn your GED credential, but that has changed.
To be eligible for online GED testing, students are required to score in the "green" zone on the official GED Ready® test. There's a GED Ready test for each of the four sub-exams. An online proctor will monitor the process. Read more here: Introducing online GED testing.
GED Preparation – How to Start
Be sure to become properly prepared for the GED exam. Your local bookstore and library will be able to supply all kinds of materials for proper preparation or attend a good online GED prep course.
When you think you are all set, go to GED.com and create your account at MyGED for registration and to schedule your testing appointments. Keep in mind that you have the freedom to take one or more of the four subtests at a time; no need to do it all in one take!
After you successfully complete the GED exam, you will be awarded the official GED diploma or certificate that is accepted by virtually all US employers and colleges as the equivalency of a regular high school diploma.
The GED credential gives you a chance to find a good job or improve your position, and the diploma opens up doors to institutions of higher learning. The free lessons and practice tests offered on this website are courtesy of Onsego GED Prep, a great course recognized by GED Testing Service.
Earning your GED credential will definitely improve your living circumstances, and you can discover all GED prep classes in your region if you click on your nearest major city in the listing above.
Why GED Preparation?
People who invest some time in studying for their exams usually increase the odds of being successful on the first try. Studies indicate that applicants who prepared well and took a practice test were far more likely to pass the entire battery of four tests than any other group of test-takers.
You can find a huge network of GED prep facilities that will assist you in getting perfectly well prepared for the GED exam, and they may also provide citizenship and ESL courses to help you get ahead with your life. Following a diploma program or a continuing education program will lead to an enrichment of your life.
You may also benefit from this website's totally free online practice tests and innovative video instruction. Lessons in the form of video presentations are known to be very effective and will get you ready for GED testing within months.
Free GED Online Prep in Connecticut
A Better Future
The GED exam gives you the opportunity to demonstrate that you possess the knowledge and skills at the level of a graduating high school student.
When you have earned your GED certificate, you will have much better chances to get a decently paying job, improve your career, get into college, and work towards a brighter future. But of course, first, you need to pass the GED test, and that's why preparation is so important.
The GED test must be done entirely on a computer and is open to any student of any age as long as the minimum age and other requirements are met.
The staff at the above-listed facilities will be glad to help individuals who are withdrawn from school with their basic education and get them ahead with their efforts to attain better employment and decently paying jobs.
For more information:
Connecticut Department of Education
Office of Adult Education
450 Columbus Boulevard
Hartford, CT 06103
Phone: 860.807­.2111
Fax: 860.807.­2112
For info about the National External Diploma Program, you may also contact the institution.
FAQ about GED in Connecticut
How to get a GED in Connecticut?
To get your GED in Connecticut, you need to take and pass the four tests of the computer-based GED high school equivalency exam. The four GED subtests are independent exams (modules) that cover the subject areas of Mathematics, Science, Language Arts, and Social Studies.
What are the Connecticut GED testing requirements?
The GED exam is for people who didn't finish high school. In Connecticut, test-takers must be at least 17 years of age, but for applicants 17 and 18 years of age, additional requirements apply. State residency is required.
What is the GED cost in Connecticut?
The GED cost in Connecticut is $0, but there is a $13.00 registration fee for the entire GED battery, but applicants younger than 21 and veterans pay nothing at all. This price also counts for online testing.
You can register and pay for one of the four GED subtests at a time. Registration and scheduling of the four tests must be done on the website GED.com.