In Utah, students who want to earn their high school equivalency (HSE) diploma can take the GED test online or in person at an official GED test center.
Utah is using the computer-based GED exam for HSE testing. The GED program offers persons who didn't finish high school one more shot at earning an equivalent degree.
There are four individual GED® subtests in Social Studies, Science, Math, and Literacy that may be taken separately.
All across Utah, there are numerous facilities that offer GED prep classes to support students in becoming well prepared to take the GED test confidently.
The GED diploma opens the door to a college education. The credential is recognized by more than 96 percent of all colleges and universities.
The GED diploma will definitely lead to better employment options and a better life in general.
Utah GED testing requirements
In Utah, the minimum age is 16 though, for 16 and 17-year-olds, additional strict criteria apply. See a testing center close to you.
Underage testers must, for example, submit an Education Withdrawal form and partake in a state-approved adult education program. Additionally, 16-year-olds must show proof of academic readiness for GED testing.
Cost: $120 for all 4 tests. Retesting is offered at a reduced rate (see below).
In Utah, there is NO residency requirement and test-takers also don't need to first take the GED Ready® practice test.
You cannot already hold a high school diploma and not be registered for another education program.
GED prep classes in Utah
You can prepare for the GED test by studying online. You can also choose a traditional GED prep class near you. Select the city that's closest to you to discover all the options.
Upon passing the GED exam, you'll be handed the GED diploma. This document is all over the US regarded as equivalent to a common high school diploma by virtually all employers, government agencies, and institutions of higher learning.
Utah GED testing centers
Blanding
Utah State University Eastern – 576 W 200 S – Blanding – UT 84511 – Ph: (435) 678.8171
Cedar City
Southwest Applied Techn. Ctr – 757 W 800 S – Cedar City – UT 84720 – Ph: (435) 586.2899
Delta
Millard School District – 285 E 450 N – Delta – UT 84624 – Ph: (435) 864.1000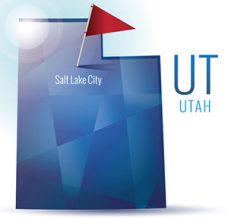 Kaysville
Davis Applied Techn. Coll – 550 E 300 S – Kaysville – UT 84037 – Ph: (801) 593.2500
Logan
Bridgerland Tech – 1301 N 600 W – Logan – UT 84321 – Ph: (435) 750.3188
Utah State University – 4305 Old Main Hil9 – Logan – UT 84322 – Ph: (435) 797.1004
Moab
Utah State University – 125 W 200 S – Moab – UT 84532 – Ph: (435) 259.7432
Ogden
Weber State University – 1299 Edvalson St – Ogden – UT 84408 – Ph: (801) 626.6598
Orem
Utah Valley University – 1165 W 800 S – Orem – UT 84058 – Ph: (801) 863.8482
Price
Utah State University-Eastern – 451 E 400 N – Price – UT 84501 – Ph: (435) 613.5325
Richfield
Snow College-Richfield – 800 W 200 S – Richfield – UT 84701 – Ph: (435) 893.2239
Salt Lake City
Granite Peaks Learning Ctr – 501 E 3900 S – Salt Lake City – UT 84107 – Ph: (385) 646.4666
Salt Lake City Comm. Coll. – 4600 S Redwood Rd – Salt Lake City – UT 84130 – Ph: (801) 957.4627
Sandy
Canyons Comm. Ed. (Nova Net Lab) – 825 E 9085 S – Sandy – UT 84094 – Ph: (801) 826.6688
St. George
Dixie State University – 225 S 700 E – St. George – UT 84770 – Ph: (435) 652.7692
Tooele
Tooele Technical College – 88 S Tooele Blvd – Tooele – UT 84074 – Ph: (435) 248.1800
Vernal
Ashley Valley Education Center – 559 N 1700 W – Vernal – UT 84078 – Ph: (435) 781.4675
West Jordan
Southpointe Adult High – 9301 S Wights Fort Rd – West Jordan – UT 84088 – Ph: (801) 256.5976
Should we make any updates? We appreciate your contributions. Please advise us here. Thank you.
Introducing the online GED exam
The GED exam is now available in an online proctored format as well. In the past, students looking to earn a GED diploma were required to report to an official Utah GED test center and sit for the exam in person but that has changed.
To qualify for online GED testing, students must have attained "green" scores on the GED Ready official practice test. To learn more, check out this article: Online Proctored GED Test Introduced.
GED price and retesting
The GED exam costs $120 in Utah but you can take, and pay for, each of the four subtests (modules) at a time (so $30 for each module).
If you don't pass a GED subject test, there is no wait time in Utah before you can retake that subtest. You can do so twice but if you fail a third time, there is a waiting period of 60 days before retesting is allowed again. Apart from that, you can take as many retests if you like.
You get two retests per subject field at a discounted rate that must be taken within one calendar year. You only pay the test center fee of $10 for these two retakes but after a year, the original price of $30 per subtest counts again. So prepare well and make sure you won't be spending more money than absolutely needed.
Free GED online prep in Utah
How to start with GED prep
Adults who never completed high school are given another chance to obtain a diploma comparable to a high school diploma by taking the GED test. Contact a GED prep facility near you for requirements and regulations when you feel the GED test is your ticket.
Prepare well for the GED
Make sure you sit for the GED exam totally prepared. Local libraries and bookstores offer adult education services as they can supply lots of study material, and there are some interesting online prep courses.
The best thing to do is probably attending a GED prep class at a facility near you in combination with an online prep course like the lessons and practice tests offered for free on this website. So prepare properly, take the tests, and get your GED diploma!
Every year, a half-million people pass the GED exam to set the first steps on the road toward a brighter future for themselves and the people around them. If you secure the GED, you can continue your education, or improve your employment opportunities.
The GED exam has four subject areas: Reasoning through Language Arts, Mathematical Reasoning, Science, and Social Studies. Successful passing the GED exam will open the door to a college education, decent employment, and self-sufficiency.
The Utah GED exam costs $120 for the complete series of 4 subtests, or $30 per module. You only need to pay for the module(s) you register for, and if you go to GED.com you will find more information and practice tests.
Free practice tests are also available on this website. You must sign up with My GED to create your account to get access to great information about higher education schools and their programs, and possibilities in the contemporary employment market. You also use this portal for registration and scheduling your test appointments.
GED and your future
We can see tens of thousands of new jobs being generated in Utah, but you really need a secondary school education (high school or GED diploma) to be able to get to one of these well-paying jobs.
The GED (General Education Development) program has been supporting adults with finishing their secondary educations for more than 75 years, and over the last decade, more than 50,000 Utah residents have obtained their GED diplomas.
You don't need to study for long hours each day if you follow this website's online video lessons and practice tests. Before you know, you'll master the academic level required to be successful so you can submit your application form to your desired college. Video lessons are known to be so very effective.
If you would like to get better pay, switch to a more promising career, or go to college, you will need your GED diploma. People holding a secondary degree (HS or GED diploma) will make an average of at least $9,600 more on a yearly basis compared to those who do not.
GED scoring
The four GED modules are scored on a 100-200 scale. The passing score on each module is 145 and averaging is not possible. Scoring is as follows:
Below passing: 100-144
high school equivalency: 145-164
College-ready: 165-174
College-ready + up to 10 college credits: 175-200.
The GED exam includes four individual tests on the subject areas of Literacy, Social Studies, Science, and Math. Each testing subject can be taken separately or all at once. So get ready for one part, pass that sub-test, and move ahead to the next section.
Test-takers must take the four GED subtests on a computer. Paper-based testing is over. This way of taking the exam ensures better testing, a greater experience, and a faster way to earn your GED diploma.
Computer-based testing
GED testing on a computer allows for instant score results, a very convenient 24/7 registration procedure, and scheduling your tests is also done online. Go to GED.com (the GED organization's website), and create your account at MyGED where you can register and pay for one test section at a time. Take and pass that section, and proceed to the next sub-test at your own speed.
The GED program is developed to support adults who never finished high school and offers them a second chance to get an equivalent credential. The GED diploma is very helpful to improve job options and gives a student the chance to get into credit-bearing courses provided by colleges or universities if they meet other required criteria.
The GED diploma has a positive effect on people's lives, and listed in this article are all facilities in Utah where GED preparation classes are available. You can visit the official website GED.com, set up your account at MyGED, and schedule your tests.
For more information:
Utah State Board of Education
Adult Education Division
250 East 500 South
Salt Lake City, UT 84111-3204
Phone:  (801) 538-7989
FAQ about GED in Utah
How to get a GED in Utah?
Adults looking to get hold of their GEDs in Utah must take and pass the four separate tests of the GED high school equivalency (HSE) test. These tests (independent modules) cover Language Arts, Mathematics, Social Studies, and Science. The GED exam is administered exclusively in a computer-formatted format.
What are the Utah GED testing requirements?
The GED test offers adults who couldn't complete their high school education the opportunity to earn an equivalent degree. In Utah, test-takers must be 18 years old or older though 16 or 17-year-olds may qualify as well if they meet some additional requirements. In Utah, GED testers don't need to be state residents and they are not required to attend a prep course or take a practice test prior to taking the GED exam.
What is the GED cost in Utah?
In Utah, taking the four GED tests costs $120. So this is for the entire exam. You can, however, take and pay for one subtest at a time. Registration for the exam is done online at GED.com. This is also the place for making payments and scheduling your tests.
Last Updated on May 18, 2021.