In Alabama, the GED test can be taken online or at a GED test center. Students who score in the "green" zone on the GED Ready test qualify for taking the four GED subtests online.
Registration for the GED exam must be done on the website GED.com. But before you schedule the test, make sure you are well-prepared.
We recommend Onsego GED online classes if you want to get ready for the GED test quickly and without stress. Our website includes a small portion of Onsego's prep so that you can try it out.
Alabama is using the GED test for its high school equivalency (HSE) testing program. The HSE test offers persons that didn't complete their high school education the opportunity to earn an equivalent degree.
The four GED® testing fields are Science, Math, Social Studies, and Language Arts.
The Alabama GED test is $120 for the entire battery of four sub-exams ($30 per section) when taken at a test center. Online testing is $36 per subtest.
The GED subtests may be taken separately; you don't have to sit for the entire battery in one take.
You can check your test results right after you take the exam.
There is no waiting period for the first two retakes. If you need to take that subtest for the third time, you'll need to wait 60 days before you can retake that subject test again. You can take each subject test as many times as you like in a year.
You can retake a subject test twice at a discounted rate within one year. After that year, the regular fee applies again, but if, after that year, you fail that subtest again, you will get two retakes at a reduced rate one more time. GED Testing Service will waive the $20 testing fee, but Alabama charges a $10 test center fee for retakes.
Alabama GED Requirements
You must be at least 16 years of age to qualify for the GED exam or for GED prep courses. 16 and 17 years old, however, must meet additional strict requirements. Please check with a prep facility or a GED testing site near you.
You cannot be the holder of a secondary education degree, nor are you allowed to be partaking in another educational project as well.
Alabama has no residency requirement for test-takers 18 years of age and older.
You are not required to first attend a GED prep course.
You also don't first need to attain sufficient results on the GED Ready® practice test, except when you sit for the exam online.
All GED Prep Classes In Alabama
You can choose a traditional GED prep class near you. Choose the city closest to you:
GED Test Centers In Alabama
Alexander City
Central Alabama Comm. Coll | 1675 Cherokee Rd | Alexander City | AL 35010 | 256.215.4270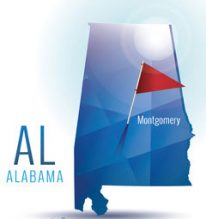 Anniston
Gadsden State Comm. Coll. | 1801 Coleman Rd | Anniston | AL 36207 | 256.832.1217
Atmore
Coastal Alabama Comm. College | 6574 Hwy 21 | Atmore | AL 36502 | 251.368.7603
Auburn 
Auburn University | 112 S College St | 232 Biggin Hall | Auburn | AL 36849 | 334.844.7936
Bay Minette
Coastal Alabama Comm. College | 1900 Hwy 31 S | Bay Minette | AL 36507 | 251.580.2185
Birmingham
Jefferson State Comm. Coll. | 2601 Carson Rd | Birmingham | AL 35215 | 205.856.7942
Jefferson State Comm. Coll. | 4600 Valleydale Rd | Birmingham | AL 35242 | 205.983.5276
Lawson State Comm. Coll. | 3060 Wilson Rd SW | Birmingham | AL 35221 | 205.929.6448
Boaz
Snead State Community College | 501 Usry St | Boaz | AL 35957 | 256.593.5120
Brewton
Coastal Alabama Comm. Coll. | 220 Alco Dr | Brewton | AL 36426 | 251.368.7603
Childersburg
Central Alabama Comm. Coll. | 34091 US Hwy 280 | Childersburg | AL 35044 | 256.378.2017
Clanton
Kelsey's Place | 950 Lumac Rd | Clanton | AL 35045 | 205.755.7101
Dothan
Wallace Community College | 1141 Wallace Dr | Dothan | AL 36303 | 334.556.2373/2282
Enterprise
Enterprise State Comm. Coll. | 600 Plaza Dr | Enterprise | AL 36330 | 334.347.2623
Eufaula
Wallace Community College | 3235 S Eufaula Ave | Eufaula | AL 36027 | 334.687.3543
Evergreen
Reid State Technical Coll. | I-65 & Hwy 83 | Evergreen | AL 36401 | 251.578.1313 ext. 149
Fayette
Bevill State Community College | 2631 Temple Ave N | Fayette | AL 35555 | 205.932.3221
Gadsden
Snead State Comm. Coll. | 1001 George Wallace Dr | Gadsden | AL 35903 | 256.439.6819
Hamilton
Bevill State Community College | 1481 Military St S | Hamilton | AL 35570 | 205.921.3177
Hanceville 
Wallace Comm. Coll. | 801 Main St | Bailey Bldg 408 | Hanceville | AL 35077 | 256.352.8461
Huntsville
Drake State Tech | 3421 Meridian St N | Bldg 700-Rm 705 | Huntsville | AL 35811 | 256.551.3116
Calhoun Comm. Coll. | 102 Wynn Dr | Sparkman Bldg-Rm 32 (Lower Level) | Huntsville | AL 35805 | 256.713.4809
Jasper
Bevill State Community College | 1411 Indiana Ave | Jasper | AL 35501 | 205.387.0511
Millbrook
The Exam Center A+ | 4868 Main St | Millbrook | AL 36054 | 334.517.4463
Mobile
Bishop State Community College | 414 Stanton St | Mobile | AL 36617 | 251.662.5370
Goodwill Easter Seals of the Gulf Coast | 2448 Gordon Smith Dr | Mobile | AL 36617 | 251.471.1581
Monroeville
Coastal Alabama Comm. Coll. | 2800 S Alabama Ave | Monroeville | AL 36460 | 251.575.3156
Montgomery
H Councill Trenholm State Comm. Coll. | 3920 Troy Hwy | Bldg J | Montgomery | AL 36116 | 334.420.4391
Muscle Shoals
Northwest-Shoals Comm. Coll. | 800 George Wallace Blvd | Muscle Shoals | AL 35662 | 256.331.5443
Opelika
Southern Union State Comm. Coll. | 1701 LaFayette Pkwy | Opelika | AL 36801 | 334.745.6437
Opp
Lurleen B Wallace Community College | 1708 N Main St | Opp | AL 36467 | 334.493.5333
Phenix City
Chattahoochee Valley Comm. Coll. | 2602 College Dr | Phenix City | AL 36869 | 334.291.4941
Phil Campbell
Northwest-Shoals Comm. Coll. | 2080 College Rd | Phil Campbell | AL 35581 | 256.331.6297
Rainsville
NE Alabama Community College | 138 AL Hwy 35 | Rainsville | AL 35986 | 256.638.2957
Selma
Wallace Community College | 3000 Earl Goodwin Pkwy | Selma | AL 36702 | 334.876.9227
Tanner
Calhoun Community College | 6250 Hwy 31 N | Tanner | AL 35671 | 256.306.2610
Thomasville
Coastal Alabama Comm. Coll. | 30755 Hwy 43 S | Thomasville | AL 36784 | 334.637.3167
Troy
Troy Career Center | 1023 S Brundidge St | Troy | AL 36081 | 334.566.3920
Tuscaloosa
Shelton State Comm. Coll. | 3401 MLK Jr. Blvd | Bldg 200-Ste 223 | Tuscaloosa | AL 35401 | 205.391.2676
Valley
Southern Union State | 321 Fob James Dr | Valley | AL 36854 | 334.756.4151
Wadley
Southern Union State | 750 Roberts St | Wadley | AL 36276 | 334.745.6437
Do we have to update this content? We welcome your feedback here. Thank you.
Online GED Testing
Eligible candidates can take the four GED subtests online as well. Until recently, if you wanted to secure your GED diploma, you were required to come to an official GED testing site and sit for the four subtests in person. Now, that has changed! For more info, go to this post: Online Proctored GED Testing.
How To Start With Your GED In Alabama
You can sign up for the GED (General Education Development) program if you don't have a high school diploma and if you are not registered for any other school program. If you want to go the GED route, here is, in short, how to get started with your preparation.
You can contact an adult education center for proper support. Find a GED prep location near you and discover your level of achievement. Learn everything about requirements and regulations, and prepare well.
This website also provides free help in the form of numerous GED practice tests and video instructions that will get you ready in a fast way! The advantage of online learning is that you can learn at a time that suits your day and calendar. Our free online GED classes are generously provided by Onsego GED prep, a premium GED prep course recognized by GED Testing Service.
The GED diploma will get you into college, so you may want to learn all about your preferred college's admissions requirements and enrollment policies and request financial aid.
By the time you've completed the GED and met academic requirements, contact your preferred Alabama Community College and try to get all relevant info about their academic programs.
If you complete the GED, your diploma and transcript will be sent to you by both email and regular mail. Study hard so one day, hopefully soon, you'll get the life you deserve.
GED Scores
The four GED subtests are measured on a scale from 100 to 200.
100-144 is the below-passing score
145-164 is the high school equivalency score
165-174 is the college-ready score
175-200 is the college-ready + college credit score
GED Registration In Alabama
Go to GED.com and discover everything regarding the GED program. Sign up with the portal MyGED and learn how to register and schedule your test appointments.
Also, your local bookstore and library will have booklets and other materials for GED preparation, and there are also some pretty good internet sites that offer free GED prep courses.
But probably the best thing to do is to combine online instruction with GED prep classes at one of the many facilities that will assist you (often at no cost at all) to become sufficiently prepared. Check the listing above for preparation classes and testing centers close to you so you can plan your GED test in good order.
Free GED Online Prep In Alabama
Why Get A GED In Alabama
There are many good reasons to go for the GED test: you will have better chances of finding suitable employment or improving your position, and the GED diploma will open doors to post-secondary education institutions.
The Alabama GED exam is only offered on a computer, but if you qualify, you no longer have to come to an official GED test center to sit for the exam in person. There is now also an online option. To register for the GED exam, go to GED.com and create your account at the portal MyGED (or call 1-877-392-6433).
Applicants don't need to pay for the whole battery of four tests at once. You only need to pay for the subject(s) that you have registered for. Among the many advantages of the GED exam is that there is so much flexibility. The fee is $30 per subject test if you take the four sub-exams at a test center. When taken online, the cost is $36 per subject.
Additionally, you will go through the process of personal development that will enable you to have a better future. In Alabama, you can find many GED programs that will get you all set to take the test confidently.
For more information:
Alabama Community College System
Adult Education, GED Office
135 S Union Street
Montgomery, AL 36130
Phone: 334.293.4567
FAQ About GED In Alabama
How to get a GED in Alabama?
To get a GED in Alabama, you need to pass the four tests of the GED high school equivalency (HSE) exam.
The four independent GED subtests (also referred to as modules) cover the fields of Mathematics, Language Arts, Social Studies, and Science. The GED is an entirely computer-formatted exam.
What are the Alabama GED testing requirements?
The GED exam is only for people who don't have a high school diploma. Alabama requires test-takers to be at least 16 years of age. Applicants 16 and 17 years old need to meet strict requirements, though, like having permission from their school district and holding parental consent. There is no state residency requirement, and you also don't need to first pass a practice test, except when you take the GED online.
What is the GED cost in Alabama?
In Alabama, the GED exam costs $120 for the entire exam ($30 per subtest) if you take the exam at a physical test site. If you take the test online, it'll cost you $36 per subtest. You can take (and pay for) the four GED subtests one at a time. Registration and scheduling of your tests are done online at GED.com. When taken online, you should also add the cost for four GED Ready practice tests ($6.99 each, so $28 in total).