New Mexico uses two options for HSE (high school equivalency) testing, the GED® and the HiSET® exams. The GED is fully computer-based while the HiSET is available both on paper and on a computer.
The GED has four separate subtests in Math, Literacy, Science, and Social Studies that be taken one at a time.
The HiSET comes with individual reading and writing subtests, so five overall, that can also be taken separately.
There are many locations where prep classes are set up to support you in your efforts to become ready to sit for the New Mexico HSE Test.
Testing needs to be done at an official New Mexico testing site. There is NO online GED or HiSET testing possibility!
The GED test and HiSET tests are not for everybody. If you already have a high school diploma or similar or are signed up for a school program, you do not qualify.
GED Requirements In New Mexico
In New Mexico, you need to be no younger than 16 years of age, though, for applicants 16 or 17 years old, additional requirements count. See a GED/HiSET testing center near you.
GED fee: $80 for the whole test ($20 per subject), HiSET: $75.
Retesting GED exam: $20 per subject (first two retakes: free).
You do NOT need to be a New Mexico resident.
You never received a high school diploma and don't attend another school program.
The New Mexico GED exam cost was $120, but now, GED test-takers only need to pay $20 per individual GED test ($80 for all four tests). They also are able to take two re-takes at no additional charge.
GED Prep Classes In New Mexico
You can prepare for the GED test by studying online. You can also choose to go to a traditional GED prep class near you. Click on your nearest city to discover all the prep locations in your area.
New Mexico GED Testing Centers
Alamo
Navajo GED Testing Center, Hwy 169, Alamo Navajo Reservation, Alamo, NM 87825, 575-854-2609
Alamogordo
New Mexico State University – 2400 N Scenic Dr, Alamogordo, NM 88310, 575-479-4318
Albuquerque
Central NM Community College – 5600 Eagle Rock, Albuquerque, NM 87113, 505-224-5263
Central NM Community College – 900 University Blvd SE, Albuquerque, NM 87106, 505-224-5263
Youth Development, Inc. (YDI), 6301 Central Ave NW, Albuquerque, NM 87105, 505-352-3432
Youth Development, Inc. (YDI), 6306 Central Ave NW, Albuquerque, NM 87105, 505-352-3469
Carlsbad
New Mexico State University – 1500 University Dr, Carlsbad, NM 88220, 575-234-9322
Clovis
Clovis Community College – 417 Schepps Blvd, Clovis, NM 88101, 575-769-4125
Deming
Western New Mexico University – 2300 E Pine St, Deming, NM 88030, 575-546-6556
Espanola
Northern New Mexico Comm College – 921 Paseo De Onate, Espanola, NM 87532, 505-747-2154
Farmington
San Juan College – 4601 College Blvd, Farmington, NM 87402, 505-566-3139
Gallup
University of New Mexico – 200 College Rd, Gallup, NM 87301, 505-726-6310
Grants
New Mexico State University – 1500 N Third St, Grants, NM 87020, 505-287-6642
Hobbs
New Mexico Junior College – 5317 Lovington Hwy, Hobbs, NM 88240, 575-492-2592
Las Cruces
Dona Ana Community College – 2800 N Sonoma Ranch Blvd, Las Cruces, NM 88011, 575-528-7294
Los Lunas
University of New Mexico – 280 La Entrada, Los Lunas, NM 87031, 505-925-8560
Moriarty
Moriarty Community Library – 202 S Broadway St, Moriarty, NM 87035, 505-832-2513
Navajo
New Life Learning Center – Navajo Route 12 Mill Rd, Navajo, NM 87328, 505-777-2688
Raton
GED Test Center – 130 Park Ave, Raton, NM 87740, 575-445-0445
Rio Rancho
Central NM Community College – 2601 Campus Blvd NE, Rio Rancho, NM 87144, 505-224-5263
Roswell
Eastern New Mexico University – 52 University Blvd, Roswell, NM 88202, 575-624-7227
Ruidoso
Eastern New Mexico University – 709 Mechem Dr, Ruidoso, NM 88345, 505-257-3012
Santa Fe
Community College – 6401 Richards Ave, Santa Fe, NM 87508, 505-428-1910
Shiprock
Dine College – 1228 Yucca St, Shiprock, NM 87420, 505-368-3565
Silver City
Western New Mexico University – 1000 W College Ave, Silver City, NM 88062, 505-538-6134
Socorro
Socorro Consolidated Schools – 700 Franklin St, Socorro, NM 87801, 575-835-0300
Taos
University of New Mexico – 1157 County RD 110, Ranchos de Taos, NM 87557, 575-737-3694
Truth or Consequences
Western New Mexico University, 601 Sunset St, Truth or Consequences, NM 87901, 575-894-9050
Tucumcari
Mesalands Community College – 911 S Tenth St, Tucumcari, NM 88401, 575-461-4413 ext. 123
Questions? Call the New Mexico state office at 505-827-6507
Do we need to update this page? We appreciate your feedback! please advise us on this contact page. Thank you!
How To Get Started
You can qualify to enter a GED or HiSET program if you don't have a high school diploma or similar. If you decide to go for the GED exam, follow these guidelines to get started with your preparation. Contact your nearest GED/HiSET prep site and find out all requirements and regulations and if the lessons are free.
Make sure you will become perfectly prepared. Local libraries and bookstores will be able to supply study materials for your GED/HiSET preparation, and there are many locations in New Mexico where preparation classes are offered. Here you can find support (often at no cost at all) to become sufficiently prepared. Listed in this post are all New Mexico prep sites (just click on a city near you in the listing above).
GED-HiSET Scoring
The GED tests are scored on a 100-200 scale, and scoring is as follows:
Below Passing Score: 100-144 points
Passing Score (high school equivalency): 145-164 points
College Ready Score: 165-174 points
College Ready + Credit Score: 175-200 points
The five HiSET subtests are scored on a 0 to 20 scale and students must attain at least an 8 score on each individual subtest. Their essay score must be at least 2 (out of 6) and their overall score must be no less than 45.
GED-HiSET Cost
To take all four tests of the GED exam in New Mexico, you will have to pay $80 ($20 per module), and HiSET testing is slightly cheaper. Registration and payment for the GED test must be done online via GED.com. You will need an email address and a credit or debit card. Contact your testing site if that may cause a problem, as pre-paid vouchers are available. You are not required to take all four GED or five HiSET tests at the same time. You can register and pay per module (test) whenever you are sufficiently prepared.
If you fail a GED subtest, you are allowed to retake that test at a reduced fee ($10) after a waiting period of 30 days. A second retake can also be done for that price ($10), but also after waiting again for 30 days. In case you need to take the test for the third time, you will have to pay $20 and you will need to wait for 60 days this time. Your GED test results are available within three hours.
Free GED Online Prep In New Mexico
Better Job And Education Options
There are many reasons to go the GED path: your employment options will improve, and by getting the HSE diploma you will have the chance to access colleges and universities. Furthermore, you will experience personal development that will allow you to enjoy a better future.
One GED-HiSET Subtest At A Time
You have the option to take one of the four GED or five HiSET subtests (also referred to as modules) at the time you feel sufficiently prepared, no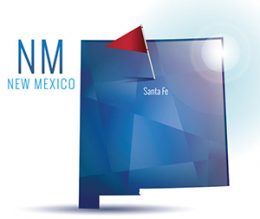 need to take it all in a row! You only need to pay for the test(s) you take.
The four GED tests are in the subject areas of Social Studies, Math, Science, and Literacy. Gone are a lot of multiple-choice questions, the GED test is now for a large part essay-based, and this way applicants will become ready to attend courses at university or college successfully.
Students will become better prepared to function properly in the modern-day employment market. The computer-formatted GED exam has other benefits as well: online registration is much easier, although applicants must realize they still must show up personally at one of New Mexico's official testing sites for the test. Another plus is that now students can receive their test results immediately after taking the test. In the old situation, they had to wait two or three weeks in anxiety.
No Online GED Or HiSET Testing
The GED and HiSET exams are NOT offered via the internet. Online learning for your HSE exam can be a good option, particularly for adults in remote regions, or those who have no time to attend classes. If you wish to earn your GED or HiSET credential, though, you absolutely need to show up at a state-designated testing site. There are fraudulent organizations that try to sell you their worthless GED diplomas or the GED or HiSET test online, but don't get conned by these robbers. Their documents are without value, your money will be gone, and employers and school will not accept these papers!
Last Updated on