In Delaware, students looking to get hold of their GED diploma can take the four independent GED subtests online or at a GED testing center.
Registration for the exam is done online on the GED.com website. BestGEDClasses offers only video lessons, practice tests, and lots of GED information at no cost.
The GED® subtests are fully computer-based, and you can find numerous facilities in Delaware that offer GED prep courses where you can become well-prepared to take the exam effectively.
The GED program gives adults who never completed their high school education one more shot at earning a credential that is equivalent to a common high school diploma.
The GED test includes four individual subtests, or modules, that measure knowledge in
math
science
social studies
English Language
You have the liberty to take one or more subtests at a time. No need to take all four subtests in one session.
In Delaware, the cost for the GED test is $144 ($36 per subtest) when taken at one of the state's GED test facilities. When taken online, the GED exam costs also $36 per subtest ($144 in total).
Online GED Classes-Fast, Simple and Cheap
Get Your GED Diploma in 2 Months.
A Customized Plan To Help You Get Your Diploma Fast & Easy.

Delaware GED Testing Requirements
Delaware offers the GED exam that is only delivered on a computer; there is no more paper and pencil testing available.
In Delaware, the minimum age is 16, but for test-takers 16 and 17 years of age, extra restrictions apply. See your nearest testing site.
All GED applicants must first pass the Official GED Ready Practice Test.
Delaware residency is required.
You are not a high school graduate and are not engaged in another school program.
You can retake a failed GED subject test two times without any wait time. After you've failed that test for the third time, you need to wait 60 days before you retake that subtest again.
For your first two retakes, you'll only be charged a $10 testing site fee if you take these retests within one year. This, however, only counts for on-site testing. There is no discount rate on the online GED test.
So in case you have a high school diploma or are currently signed up for any school program, you cannot get into the GED program.
The GED credential is generally recognized and accepted by US government agencies, employers, and colleges as equivalent to a common high school diploma. If you have never completed high school, obtaining your GED diploma is crucial.
The GED diploma will give you the possibility to get a good job or improve your position, and it opens doors to colleges and universities. Check also our post about how to sign up for your GED test at the portal MyGED.
GED Prep Classes in Delaware
You can prepare for the GED test by studying online or attending a physical traditional GED prep class near you. Select your nearest city.
GED Testing Centers in Delaware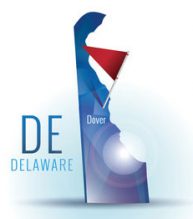 Dover
Delaware State University – 1200 N DuPont Hwy – Dover – DE 19901 – Ph: (302) 857.6144
(Thomasson Building, Office 202)
Middletown
Appoquinimink Adult Education – 120 Silver Lake Rd – Middletown – DE 19709 – Ph: (302) 378.5037
Newark
Delaware Tech and Comm. Coll. – 400 Stanton-Christiana Rd – Newark – DE 19713 – Ph: (302) 453.3770/3956
New Castle Co. Learning Ctr – 1301 Drummond Pl – Newark – DE 19711 – Ph: (302) 368.0318
New Castle
Delaware Skills Center – 500 Ship's Landing Way – New Castle – DE 19720 – Ph: (302) 645.5392
Seaford
Seaford District Library – 600 N Market St Ext. – Seaford – DE 19973 – Ph: (302) 629.2524
Wilmington
Red Clay Adult Ed. (James H. Groves Adult High) – 1621 Telegraph Rd – Wilmington – DE 19804 – Ph: (302) 651.2709
Delaware Skills Ctr – 500 Ship's Landing Way – Wilmington – DE 19720 – Ph: (302) 645-5392
Woodside
Polytech Adult Education – 823 Walnut Shade Rd – Woodside – DE 19980 – Ph: (302) 697.4545
Does this content require updates or adjustments?
We appreciate your feedback here on this contact page. Thank you for your contributions!
Online GED Testing Introduced
Taking the GED test can be done online or at an official Delaware GED testing site. Until recently, you were required to appear in person at an official testing site, but that has changed.
To qualify for taking the four GED subtests online, students need to score in the "green" zone on the official GED Ready® practice test. An online proctor will oversee the process. To read more, check out this post: introducing online GED testing.
GED – How to Get Started
Find a GED prep site in your area sign up for their GED prep classes, and/or follow a good online GED prep course to get all set fast. Discover a GED testing site close to you and learn about registration and cancellation procedures.
Registration for the GED exam must be done online via GED.com and MyGED. Become perfectly prepared to successfully sit for the exam, and you can benefit very well from the free support this website offers, thanks to cooperation with Onsego GED Prep.
Local bookstores and libraries can offer all sorts of learning materials for preparation, but there are also many facilities close to you where decent GED preparation is offered, mostly free of charge; as said, check out GED.com to register for your GED exam.
You can take one of the four tests at a time. There's no need to sit for the entire GED battery at once. The four tests (modules) are in the subject areas of Math, Science, Literacy, and Social Studies.
The General Educational Development (GED) exam is, also in Delaware, only available in a computer-based format, and the program was totally overhauled. The changes were needed to keep the GED test in line with current academic standards and the need for more technically trained workers.
Free GED Online Prep in Delaware
GED Passing Score
You will be awarded the GED diploma after successfully completing the Delaware GED exam. Scoring takes place on a 100-200 scale.
100-144: below-passing score
145-164-high school equivalency passing score
165-174: college-ready score
175-200: college-ready plus credits score
There are many benefits to the GED exam. You can register online, your test scores will be available within hours (except for the writing section), and you can schedule and reschedule your tests very easily in the new online environment.
Go to GED.com to learn all the details and create your own account with MyGED for registration, scheduling your tests, and becoming aware of employment possibilities and college- and university programs.
The GED diploma will surely benefit your living circumstances as it will lead to better-paying jobs, and the credential also allows for a college education. Virtually all North American institutions of higher education accept the GED credential in lieu of a conventional HS degree.
More information:
Delaware Department of Education, Adult & Prison Education Resources
35 Commerce Way, Suite 1
Dover, DE 19904
Phone: 302.857.3340
Fax: 302.739.1769
FAQ about GED in Delaware
How to get a GED in Delaware?
To earn your GED in Delaware, you must take and pass the four independent subtests of the GED high school equivalency test. The four GED subtests (modules) cover Science, Mathematics, Social Studies, and Language. The GED exam is entirely computer-formatted.
What are the Delaware GED testing requirements?
To qualify for the GED test in Delaware, you cannot have a high school diploma and be at least 16 years old, though, for 16 and 17-year-olds, extra requirements apply. State residency is required, and test-takers must also first take the GED Ready practice test.
What is the GED cost in Delaware?
In Delaware, when taken at a test center, the GED tests cost $36 each, so that's $144 for the entire exam. In an online proctored format, the GED exam costs $144 as well ($36 for each subtest). You can take and pay for each of the four GED subtests at a time. To register, pay for, and schedule your tests, go to the website GED.com.