In New Hampshire, students can take the five HiSET subtests online or at one of New Hampshire's official testing centers. The exam can be completed in a paper-and-pencil format or computer-based.
BestGEDClasses.org offers free video lessons and practice tests. Registration for the HiSET exam is done at hiset.ets.org.
New Hampshire is using the HiSET for high school equivalency testing. The HiSET measures knowledge at a level comparable to that of graduating high school seniors.
The New Hampshire HiSET® exam includes 5 tests in these subject areas: Language Reading, Language Writing, Social Studies, Science, and Math.
Online HiSET testing is now available as well. Test-takers needed to come to a state-approved HiSET testing facility and take the exam face-to-face, but a proctored online version of the HiSET is also available.
The HiSET test consists of a large part of multiple-choice questions (except for the writing section), and you can discover strategies that will allow you to stay clear of wrong answers.
By training these strategies, for example on this website, you will become more confident, and your scores will improve.
Online GED classes- Simple, Fast & Easy.
Pass your GED quickly.
New Hampshire GED Qualification Requirements (HiSET)
In New Hampshire, applicants must be at least 16 years old.
For 16 and 17-year-olds, additional requirements apply. They must, for instance, be officially withdrawn from high school and hold parental consent. Please check with a test site.
HiSET test-takers need to be New Hampshire residents or physically reside in the state to be able to take the HiSET exam in New Hampshire. Providing proof is required.
Test-takers can not already have a high school or equivalent diploma.
Test-takers can not be registered for another education program.
There is no statewide requirement to first take the HiSET practice test, but local testing centers may require it, so get well informed.
GED Prep Classes In New Hampshire (HiSET)
You can prepare for the HiSET test by studying online, and this website's free HiSET practice tests will also help you get ahead fast. You may also opt to attend a traditional prep class near you. Click on your nearest city to see all the available prep sites.
New Hampshire GED Testing Centers (HiSET)
Berlin
Berlin Adult Education – 166 Main St – Berlin – NH 03570 – Ph: (603) 752.1927
Claremont
Claremont Adult Education – 111 South St – Claremont – NH 03743 – Ph: (603) 543.4224
Concord
Concord Adult Education – 17 Knight St – Concord – NH 03301 – Ph: (603) 228.1341
Derry
The Upper Room – 36 Tsinenneto Rd – Derry – NH 03038 – Ph: (603) 432.1245
Gilbert H Hood Middle School – 5 Hood Rd – Derry – NH 03038 – Ph: (603) 432.1245
Dover
Dover Adult Ed. Ctr – 61 Locust St – Dover – NH 03820 – Ph: (603) 742.1030
Exeter
Exeter Adult Education – 30 Linden St – Exeter – NH 03833 – Ph: (603) 775.8456/8457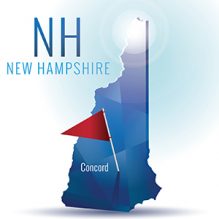 Franklin
Franklin High School – 119 Central St – Franklin – NH 03235 – Ph: (603) 934.5441
Keene
Keene High School – 227 Maple Ave – Keene – NH – Ph: (603) 357.9041/357.0088
Laconia
Laconia High School – 345 Union Ave – Laconia – NH 03246 – Ph: (603) 524.5712
Littleton
White Mountains Comm. Coll. – 646 Union St – Littleton – NH 03561 – Ph: (603) 638.4325/444-4846
Londonderry
Londonderry High School – 295 Mammoth Rd – Londonderry – NH 03053 – Ph: (603) 432.6941
Manchester
NH Job Corps  – 943 Dunbarton Rd – Manchester – NH 03102 – Ph: (603) 695.8800
Nashua
Nashua Adult Learning Ctr – 4 Lake St – Nashua – NH 03060 – Ph: (603) 882.9080
North Conway
Kennett High School – 409 Eagles Way – North Conway – NH 03860 – Ph: (603) 356.4343
Plymouth
Plymouth Regional High – Old Ward Bridge Rd – Plymouth – NH 03264 – Ph: (603) 536.1444
Portsmouth
Crossroads House Portsmouth – 600 Lafayette Rd – Portsmouth – NH 03801 – Ph: (603) 775.8456
Rochester
First Church Congregational (Dover ALC) – 63 S Main St – Rochester – NH 03867 – Ph: (603) 742.1030
Salem
Salem Adult Education (Salem High) – 44 Geremonty Dr – Salem – NH 03079 – Ph: (603) 893.7074
Union
Gafney Library Literacy Program – 254 Main St – Union – NH 03887 – Ph: (603) 522.9593
Are maybe some updates needed? We welcome contributions. Please inform us on this contact page. Thank you!
New Hampshire HiSET Online
You can take the New Hampshire HiSET exam at one of the state's HiSET test centers, but there's also the HiSET-At-Home test, also referred to as the Remote Proctored (R.P.) HiSET exam.
To qualify for online testing, you need to reach passing scores on the HiSET OPT (Official Practice Test).
New Hampshire HiSET Cost
The HiSET includes five independent sub-exams that can be taken one (or more) at a time and in any order. The computer-based sub-exams will set you back $25 each (so overall $125), and the paper-based sub-exams are $20.75 each (or $103.75 in total).
You will understand that if you take the Remore Procotred HiSET exam, you'll have to take it in a computer-based format.
Free GED And HiSET Online Prep In New Hampshire
In New Hampshire, you can take the HiSET exam both on a computer and in a paper-delivered format. Keep in mind, though, that not all test centers offer both formats. Make sure to check which option(s) is (are) offered at your nearest testing site before scheduling a testing appointment.
Online Proctored HiSET Testing
So the HiSET exam can be taken online as well. Until recently, the exam had to be taken at a state-approved New Hampshire testing site, but that has changed. To learn more, check out this post: The online HiSET exam.
GED And HiSET – It's All About Your Future
Having the HSE (high school equivalency) diploma will definitely improve your employment options and open doors to colleges and universities. Most of the time, you are required to take a pre-test to find out your weak and strong points. This way, you know what sectors need your most attention.
By the time you feel you are ready to go the HiSET path, contact the test center closest to you and become fully informed of all conditions and procedures.
The HSE certificate or diploma is comparable to a common high school diploma and is accepted by government agencies, employers, and universities all across the United States. The test offers adults one more chance to prove their knowledge and skills. You have the option to take one (or more) of the five HiSET subtests at a time.
To pass the HiSET subtests, your score must be at least 8 out of 20 in each subtest, your essay score must be at least a 2 (out of 6), and your overall score cannot be less than 45.
How To Prepare For The GED Or HiSET Exam
Contact your nearest HiSET preparation or testing center and find out if you are eligible to take the HiSET exam. Not everybody qualifies: you should not have a high school diploma or be signed up for a school program.
Become well informed of requirements and regulations, and get adequately prepared. Your community bookstore or library may supply study material, and there are some very good online prep courses as well, like the Onsego prep course that generously provides the free practice tests and video lessons available on this website.
But most importantly, all across New Hampshire, there are numerous locations where HiSET preparation classes are offered, often totally free of charge. In these classes, you will become well-prepared to take the exam confidently.
Take a HiSET practice test prior to preparation classes. You will find out your weak and your strong points, and this will indicate which sectors need the most attention. Discover the best strategy for you to take the exam.
Holding the New Hampshire High School Equivalency diploma will boost your employment chances and qualify you for a college education.
By making this website's free practice tests, you will discover your weak points, so you'll learn which topics to concentrate on most. The HiSET exam includes five separate subtests that you may take over a few days but also entirely separately.
Regardless of whether you recently left high school or that you are an adult who in the past never completed high school, getting the HSE (high school equivalency) diploma will be the ticket for you.
The New Hampshire HSE diploma is the equivalency of a standard high school diploma and is accepted as such by employers, government agencies, and colleges across North America. Holders of a high school or high school equivalency diploma will, on average, make some $9500 more annually than workers without the credential.
For more information:
New Hampshire Bureau of Adult Education
High School Equivalency Office
21 S Fruit Street, Suite 20
Concord, NH 03301
Phone: 603.271.3454
FAQ About GED In New Hampshire
How to get a GED in New Hampshire?
New Hampshire is using the HiSET for the state's HSE testing program. To earn your HSE diploma in New Hampshire, you'll need to pass the five separate tests that form the HiSET exam. The subject fields covered in the HiSET exam are Math, Science, Reading, Writing, and Social Studies.
What are the New Hampshire GED testing requirements?
HiSET testing (like the GED®) is only available to adults that never finished high school. Applicants must be at least 16 years old, but 16 and 17-year-old test-takers will have to meet extra requirements. State residency is required, but test-takers don't first need to take a practice or qualification test.
What is the GED cost in New Hampshire?
The New Hampshire HiSET exam will set you back between $100 and $125 for the entire 5-test battery ($20-$25 per individual subtest). Retakes are offered for free, but state fees apply nevertheless (for paper-delivered tests: $10, and for computer-delivered tests: $14.25). You can register (and pay for) each of the five HiSET tests one at a time.