New Hampshire is using the HiSET® for HSE (High School Equivalency) testing. The HiSET, like the GED®, measures knowledge at a level comparable to that of graduating HS seniors.
The HiSET exam includes 5 tests in these subject areas: Language Reading, Language Writing, Social Studies, Science, and Math.
The fee to take the HiSET exam is $25 per subtest.
Online HiSET or GED testing is NO option. Test takers need to come to a state-approved HiSET testing facility and take the exam face-to-face.
Online-obtained documents will for sure not be accepted by schools or employers in New Hampshire.
The HiSET test consists of a large part of multiple-choice questions (only the writing section not), and you can discover strategies that will allow you to stay clear of wrong answers.
By training these strategies, for example on this website, you will become more confident and your scores will improve.
GED New Hampshire Requirements (HiSET)
In New Hampshire, you must be 16 years old but for 16 and 17-year-olds, additional requirements apply – please check with a test site.
New Hampshire requires state residency.
You must pass the official NH practice test first.
You are no high school graduate.
You are not attending another school program.
GED Prep Classes In New Hampshire (HiSET)
You can prepare for the HiSET test by studying online. You may also opt to attend a traditional prep class near you. Click on your nearest city to see all the available prep sites.
New Hampshire GED Testing Centers (HiSET)
Claremont
Claremont Adult Education, 111 South St, Claremont, NH 03743, 603.543.4224
Concord
Concord Adult Education, 17 Knight St, Concord, New Hampshire 03301, 603.228.1341 x 4205
Derry
Gilbert H Hood Middle School – 5 Hood Rd – Derry – NH 03038 – Ph: (603) 432.1245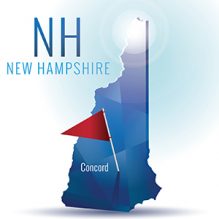 Dover
Dover Ad. Education Ctr, 61 Locust Street, Dover, New Hampshire 03820, 603.742.1030
Franklin
Franklin Adult Education, 18 Central St – Franklin – New Hampshire 03235, 603.934.5441 x 3451
Keene
Keene Community Education, 227 Maple Ave, Keene, New Hampshire, 603.357.0088 ext. 102
Laconia
Laconia Adult Education, 345 Union Ave, Laconia, New Hampshire 03246, 603.524.5712
Littleton
White Mountains Comm College-Littleton – 646 Union St – Littleton – NH 03561 – Ph: (603) 638.4325/444-4846
Londonderry
Londonderry High School, 295 Mammoth Rd, Londonderry, New Hampshire 03053, 603.432.6941
Manchester
HiSET Testing Center (West High School), 9 Notre Dame Ave, Manchester, New Hampshire 03102, 603.703.0236
Nashua
Nashua Adult Learning Ctr – 4 Lake St – Nashua – NH 03060, Ph: (603) 882.9080
North Conway
Eagle Academy, 409 Eagles Way, North Conway, New Hampshire 03860, 603.323.8857
Rochester
First Church Congregational, 63 S Main St, Rochester, New Hampshire 03867, 603.335.6200
Salem
Salem Adult Education (Salem High) – 44 Geremonty Dr – Salem – NH 03079 – Ph: (603) 893.7074
Sanbornville
Gafney Library (Sanbornville/Wakefield Adult Ed.), 14 High St, Sanbornville, New Hampshire 03872, 603.986.1116
Questions? Call New Hampshire's state office at 603-271-6699.
Are maybe some updates needed? We welcome contributions. Please inform us on this contact page. Thank you!
GED and HiSET – It's All About Your Future
Having the HSE diploma will definitely improve your employment options and open doors to colleges and universities. Most of the time you are required to take a pre-test to find out your weak and strong points. This way you know what sectors need your most attention. By the time you feel you are ready to go the HiSET path, contact the test center closest to you and become fully informed of all conditions and procedures.
The HSE certificate or diploma is comparable to a common high school diploma and is accepted by government agencies, employers, and universities all across the United States. The test offers adults one more chance to prove their knowledge and skills. You have the option to take one (or more) of the five HiSET subtests at a time. To pass the HiSET subtests, your score must be at least 8 out of 20 in each subtest, your essay score must be at least a 2 (out of 6), and your overall score cannot be less than 45.
How To Prepare For The GED or HiSET Exam
Contact your nearest HiSET preparation or testing center and find out if you are eligible to take the HiSET exam. Not everybody qualifies: you should not have a high school diploma or be signed up for a school program. Become well informed of requirements and regulations, and get properly prepared. Your community bookstore or library may supply study material and there are some very good online prep courses as well.
But most importantly, all across New Hampshire, there are numerous locations where HiSET preparation classes are offered, often totally free of charge. At these classes, you will become well prepared to take the exam confidently. Take a HiSET practice test prior to preparation classes. You will find out your weak and your strong points, and this will indicate which sectors need the most attention. Discover the best strategy for you to take the exam.
Free GED-HiSET Online Prep In New Hampshire
Holding the New Hampshire High School Equivalency diploma will boost your employment chances and qualify you for a college education. By making this website's free practice tests, you will discover your weak points so you'll learn which topics to concentrate on most. The HiSET exam includes five separate subtests that you may take over a few days but also entirely separately.
Regardless of whether you recently dropped out of high school or that you are an adult who never completed high school, getting the HSE (high school equivalency) diploma will be the ticket for you.
The New Hampshire HSE diploma is the equivalency of a standard high school diploma and accepted as such by employers, government agencies, and colleges across North America. Holders of a high school or high school equivalency diploma will, on average, make some $9500 more annually than workers without the credential.
Last Updated on