New Hampshire is using the HiSET® for HSE (High School Equivalency) testing.
The HiSET, like the GED®, measures knowledge at a level comparable to that of graduating HS seniors.
The HiSET exam includes 5 tests in these subject areas: Language Reading, Language Writing, Social Studies, Science, and Math.
Increase your GED test score quickly
Sometimes just a few points decide if you pass or fail the GED test.
Having a poor GED test-taking technique can cost you your diploma.
Don't allow this to happen to you!
Learn how to increase your GED score by preparing with the Covcel GED Prep Course.
The fee to take the HiSET exam is $95, retests are $20 per subject.
Online HiSET or GED testing is NO option. Test takers need to come to a state-approved HiSET testing facility and take the exam face-to-face.
Online-obtained documents will for sure not be accepted by schools or employers in New Hampshire.
The HiSET test consists of a large part of multiple-choice questions (only the writing section not), and you can discover strategies that will allow you to stay clear of wrong answers.
By training these strategies, for example on this website, you will become more confident and your scores will improve.
Blair got her GED Diploma in 2 months
Covcel made obtaining my GED quick and painless. I was able to get my GED completed in approximately 2 months while on unemployment.
I didn't have to worry about making it to classes and did it from the comfort of my own home- Blair P.
GED (HiSET) New Hampshire requirements
In New Hampshire, you must be 18 years old (for 16 or 17 yrs old's restrictions apply – go to a test site close to you).
New Hampshire requires state residency.
You must pass the official NH practice test first.
You are no high school graduate.
You are not attending another school program.
GED (HiSET) prep classes in New Hampshire
You can prepare for the HiSET test by studying online. You may also opt to attend a traditional prep class near you. Click on your nearest city to see all the available prep sites.
New Hampshire GED (HiSET) testing centers
Concord
State Dep. of Education, 21 S Fruit St. Concord, New Hampshire 03301, 603.271.6699
Concord
Concord School District, 17 Knight St, Concord, New Hampshire 03301, 603.228.1341
Derry
Derry GED Center, 1 West Running Brook Ln, Derry, New Hampshire 03038, 603.432.1245
Dover
Dover Ad. Education Ctr, 61 Locust Street, Dover, New Hampshire 03820, 603.742.1030
Exeter
Exeter Adult Education, 30 Linden St, Exeter, New Hampshire 03833, 603.775.8457
Franklin
Franklin H.S. (SAU) 18 Central Street, Franklin, New Hampshire 03235, 603.934.3108
Laconia
Laconia Adult Education, 345 Union Ave, Laconia, New Hampshire 03246, 603.524.5712
Londonderry
Londonderry High School, 295 Mammoth Rd, Londonderry, New Hampshire 03053, 603.432.6941
Manchester
Manchester School of Technology, 530 S Porter St, Manchester, New Hampshire 03103, 603.624.6390
HSE Testing Center (Manchester West High School), 9 Notre Dame Ave, Manchester, New Hampshire 03102, 603.703.0236
Nashua
Nashua Adult Learning Ctr, 4 Lake St, Nashua, New Hampshire 03060, 603.882.9080
Salem
Salem High School, 44 Geremonty Dr, Salem, New Hampshire 03079, 603.893.7074
Sanbornville
Gr. Wakefield Resource Ctr, 14 High St, Sanbornville, New Hampshire 03872, 603.522.9593
Questions? Call New Hampshire's state office at 603-271-6699.
Are maybe some updates needed? We welcome contributions. Click here to access the contact page. Thank you!
GED (HiSET) – It's all about your future
Having the HSE diploma will definitely improve your employment options and open doors of colleges and universities. Most of the time you are required to take a pre-test to find out your weak and strong points. This way you know what sectors need your most attention. By the time you feel you are ready to go the HiSET path, contact the test center closest to you and become fully informed of all conditions and procedures.
The HSE certificate or diploma is comparable to a common high school diploma and is accepted by government agencies, employers, and universities all across the United States. The test offers adults one more chance to prove their knowledge and skills. You have the option to take one (or more) of the five HiSET subtests at a time. To pass the HiSET subtests, your score must be at least 8 out of 20 in each subtest, your essay score must be at least a 2 (out of 6), and your overall score cannot be less than 45.
How to prepare for the GED (HiSET) exam
Contact your nearest HiSET preparation or testing center and find out if you are eligible to take the HiSET exam. Not everybody qualifies: you should not have a high school diploma or be signed up for a school program. Become well informed of requirements and regulations, and get properly prepared. Your community bookstore may supply study material and there are some very good online prep courses as well.
But most importantly, all across New Hampshire, there are numerous locations where HiSET preparation classes are offered, often totally free of charge. At these classes, you will become well prepared to take the exam confidently. Take a HiSET practice test prior to preparation classes. You will find out your weak and your strong points, and this will indicate which sectors need the most attention. Discover the best strategy for you to take the exam.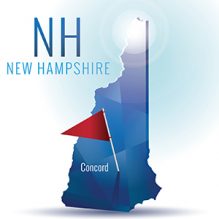 Regardless whether you recently dropped out of high school or that you are an adult who never completed high school, getting the HSE (high school equivalency) diploma will be the ticket for you.
Free GED-HiSET online prep in New Hampshire
Tips For Finding Your TRUE Dream Job
There is a bit of misinformation that has permeated the minds of many working individuals when it comes to the idea of a "dream job". It's actually not as difficult find as you may believe. It may just be a matter of adjusting your thinking when it comes to finding that one job you could happily do forever and of course right education.
Here is some practical advice for finding your TRUE dream job and being a happier member of the workforce:
Mentally Throw Out Everything You've Been Told About What A Dream Job Is
Conventional wisdom states that a dream job is usually something you've never done before but absolutely know that if given the chance, it would make you happy. The dream job is perceived as easy and coming naturally.
Most of all, leaping into a career field that one dreams about usually requires no major preparation or considerations should the industry unexpectedly go under or other issues cause it to not work out.
In other words, much of what people have come to accept about dream jobs is more dream than an actual job. As such, it's important to let go of these false notions as to what is involved in getting a dream job. Not only will this likely lead to disillusionment and dissatisfaction, but it may also actually get in the way of finding your actual dream job.
A Dream Job Is What You CAN Do Well, Not What You Think You Could Do
Let's say that a person who previously had no idea what a bimorph is, was to find that they had a talent for designing them. As more time passes, they develop a passion for doing so and start their own company. If you were to have asked this person years ago what their passion was, it could have been a desire to build video games. This may have been based on their experience with playing games rather than actual know-how when it came to game design.
Often, dream jobs are based on what we assume we could learn to like rather than two other important factors. The first factor is the actual ability. When you learn how to do something and do it well, you may find that a passion develops over time. It's true that there are people who are stuck in monotonous jobs doing things that they hate. However, the second factor involves keeping an open mind. Being open to the possibility of enjoying a work task or career over time may help you foster a feeling of enjoyment and eventually you realize you've found your dream job.
Dream jobs are jobs that you've developed the skill for and then find you can do them. It's possible to be skilled at something you hate. And it's also possible to assume you'll love something you're not skilled at. But only the combination ever assures that a job is truly a dream job.
No true happiness comes without sacrifice. A desire for instant gratification may be standing between you and your dream job. To illustrate, there have been great authors who received hundreds of rejection letters before their first big success. Rarely do people luck into a perfect job without having experienced any negativity. So if you want to be truly happy, you have to be willing to put in the time.
Holding the New Hampshire High School Equivalency diploma will boost your employment chances and qualify you for a college education. By taking this website's free practice tests, you will discover your weak points so you'll learn which topics to concentrate on most.
The New Hampshire HSE diploma is the equivalency of a standard high school diploma and accepted as such by employers, government agencies, and colleges across North America. You can that one or more of the five subtests at a time.