Nebraska is using the computer-based GED® exam for HSE (high school equivalent) testing. GED testing offers persons who never completed high school the opportunity to obtain an equivalent degree.
There are four GED modules (subtests) in the academic fields of Social Studies, Literacy, Math, and Science.
There's no need to prepare for or take the entire GED battery in one session. You have the liberty to take one subtest at a time.
There are many locations in the state where GED programs are available to assist you with your efforts to become perfectly prepared to take the four GED tests confidently.
After completing the GED exam successfully you will be awarded the GED diploma, a document that is nationwide accepted as equivalent to a standard high school diploma.
The GED diploma will surely help you to land a well-paying job and also opens the doors of colleges and universities.
Nebraska GED Qualification Requirements
Nebraska requires you to be at least 16 years old. For students 16 or 17 years old, however, strict additional requirements apply. Contact your nearest GED testing site.
Fee: $120 for the entire computer-based test, $30 per subject.
You don't have to be a Nebraska resident but to receive your GED diploma, you must have lived in Nebraska for at least thirty days.
You have no high school diploma and are not engaged in any other school program.
GED Prep Classes In Nebraska
You can prepare for the GED test by studying online. You can also choose a traditional GED prep class near you. Choose the city nearest to you to discover all the prep locations.
Nebraska GED Testing Centers
Alliance
Alliance Publ. Schools – 1604 Sweetwater Avenue, Alliance, Nebraska 69301, 308.762.1580
Beatrice
Southeast Comm. Coll. – 4771 West Scott Road, Beatrice, Nebraska 68310, 402.228.8242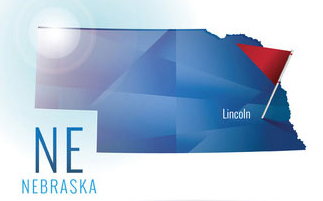 Bellevue
Bellevue Ad. Education Ctr – 2820 Arboretum Dr, Bellevue, Nebraska 68005, 402.293.5026
Blair
Blair H.S. GED Testing – 440 N 10th Street, Blair, Nebraska 68008, 402.426.4941
Chadron
Chadron State Coll. – 1000 Main St, Chadron, Nebraska 69337, 308.635.6770
Columbus
Central Community Coll. – 4500 63rd Street, Columbus, Nebraska 68601, 402-562-1222
Crete
Crete Public Schools, 920 Linden Ave – Crete, NE 68333, 402-826-5228
Fremont
Metropolitan Community Coll. – 835 N Broad, Fremont, Nebraska 68025, 402.721.2507
Grand Island
Central Comm. College – 3134 W Hwy 34, Grand Island, Nebraska 68802, 877-222-0780
Hastings
Central Comm. College – 3385 E Community Dr, Hastings, NE 68901, 887-222-0780
Imperial
Chase Co. High School – 520 E 9th St, Imperial, Nebraska 69033, 308.882.4304
Kearney
Central Comm. College – 3519 2nd Ave, Kearney, NE 68847, 308-338-4024
Lexington
Central Comm Coll – 1501 Plum Creek Pkwy – Lexington – NE 68850 – Ph: (308) 324.8480
Lincoln
State Dept. of Education – 301 Centennial Mall South, Lincoln, Nebraska 68509, 402.471.4807
Wesleyan University GED Testing – 5000 St Paul Ave, Lincoln, Nebraska 68504, 402.465.2976
Southeast Comm. Coll – 8800 O Street, Lincoln, Nebraska 68520, 402.437.2715
McCook
McCook Comm Coll – 1205 E 3rd St – McCook – NE 69001 – Ph: (308) 345.8128
Norfolk
Northeast Comm. College – 801 East Benjamin Avenue, Norfolk, Nebraska 68702, 402-844-7254
North Platte
North Platte Comm. College – 1101 Halligan Drive, North Platte, Nebraska 69101, 308.535.3621
Ogallala
Ogallala Public Schools – 205 East 6th Street, Ogallala, Nebraska 69153, 308.284.4478
Omaha
Omaha Public Schools – 3230 Burt St, Omaha, NE 68131, 402-557-3700
Metropolitan Comm. College – 30th & Fort St Omaha, NE 68103, 531-622-4060
NE Wesleyan University – 11815 M St, Omaha, NE 68137, 402-465-2476
Papillion
Lavista Public School – 402 E Centennial Road, Papillion, Nebraska 68046, 402.898.0400
Plattsmouth
Plattsmouth Comm. Schools – 1912 E Highway 34, Plattsmouth, Nebraska 68048, 402.296.3174
Scottsbluff
WNCC-Harms Advanced Technology Ctr – 2620 Coll. Park, Scottsbluff, NE 69361, 308.635.6770
South Sioux City
Northeast Comm College  – 1001 College Way – South Sioux City – NE 68776 – Ph: (402) 241.640
Sydney
WNCC-Sydney – 371 College Drive, Sidney, Nebraska 69162, 308-635-6770
Winnebago
Little Priest Tribal Coll – 601 E College Dr – Winnebago – NE 68071 – Ph: (402) 878-3302
York
York Public Schools – 2918 N Delaware, York, NE 68467, 402-362-6655
Questions? call the Nebraska state office at 402-471-4807.
Are adjustments required? Please inform us. We appreciate your feedback here. Thank you!
GED – How To Start
The GED exam is only accessible for adults who never completed high school and who are not engaged in a school program. At the time you think you can take on the GED track, go by the following guidelines to get ahead: contact your nearest GED prep center and see if you qualify.
If you do, get familiar with their regulations and see how much you will have to pay. Become informed. Carefully study requirements and regulations at your GED testing site, and come to the GED exam optimally prepared. Your community library or local bookstore can supply study materials, and you will find quite a few locations close to you where GED classes are available totally free of charge. Just check the listing on this page. There are also several pretty good online preparation courses that are highly effective. Appear well prepared, pass the exam, and get your GED diploma.
The 4 GED Tests
The GED exam is a series of tests (four) that measures your level of knowledge about subjects that are taught in high school. The four tests can be taken separately and are in these subject fields: Math, Literacy, Science, and Social Studies. The GED exam is for people who never finished high school and who want to get into college and training programs or get better employment. Virtually all U.S. colleges and employers consider the GED certificate equivalent to a high school diploma.
Many employers require applicants to hold a GED certificate or high school diploma for employment or promotions. The GED exam is more comprehensive than former versions and is better in line with university requirements and industry demands. Good preparation is needed more than ever before!
GED Scoring
The four computer-based GED subtests are scored on a scale with a range from 100 to 200.
100-144: below-passing score
145-164: passing score (high school equivalency)
165-174: college-ready score
175-200: college-ready + college credit score
GED Benefits
The GED program is created to support persons without a high school diploma in their efforts to obtain an equivalent diploma. Getting the GED certificate will improve your job outlooks and open up doors to institutions of higher education. Obtaining the GED diploma is going to have a positive effect on many lives, and listed here are Nebraska locations in key areas that provide GED preparation classes.
GED Cost
In Nebraska, the cost of the four tests is $120 ( $30 per test) but you only pay upon registration for the test you register for, if you want, one at a time. Nebraska's Legislature has decided to provide a financial boost to educational institutions that support adults obtain their high school equivalency credentials.
Free GED Online Prep In Nebraska
No More Paper-Based GED Testing
The GED standards require that the tests are taken on a computer. Paper-based testing is something of the past and this makes actually sense because in the contemporary employment market practically all positions require applicants to command at least some basic keyboarding skills. Nebraska's Education Department estimated that every year, some 4,000 residents take the GED exam, and the 2010 Census revealed that there are almost 25,000 adults in Omaha and Council Bluffs who did not finish high school. The GED test offers a great opportunity for them to turn around their lives and work towards a brighter future.
To take the GED exam you must appear in person at a designated GED test center. Online courses are perfect to get all set for the GED exam, but the four GED tests are just not available over the internet. Websites with a different message are fraudulent. Online-acquired documents are worthless and are sure not to be accepted by schools and employers. Don't waste your money!
Last Updated on