This page lists all GED® prep facilities and test centers in the Fond du Lac region.
If you want to earn your HSE (high school equivalency) diploma in Wisconsin, you must pass the GED exam.
HSE testing is for persons who did not graduate high school and gives them the chance to acquire an equivalent degree.
The GED exam is a set of four tests that measure knowledge at a level comparable to that of high school seniors upon graduation.
The four computer-based GED subtests are in Social Studies, Math, Literacy, and Science.
There's no need to take the four GED subtests (or modules) at the same time.
You can take them one at a time and your test results are valid for two years from the time of the first registration.
GED Classes in Fond du Lac
Wisconsin GED free practice test
Moraine Park Technical College 
235 N National Ave, Fond du Lac, Wisconsin 54936, Ph: 920-924-3207
Fond du Lac Public Library (Fond du Lac Literacy Services)
32 Sheboygan St, Fond du Lac, Wisconsin 54935, Ph: 920-929-7080
ADVOCAP Opportunity Center-Fond du Lac
19 W First St, Fond du Lac, Wisconsin 54936, Ph: 920-922-7760
Any adjustments needed? We appreciate your contributions via our contact page.
WI GED Requirements
Facilities around Fond du Lac (cities by alphabet)
Fox Valley Tech
1825 N Bluemound Dr, Appleton, Wisconsin 54914 Ph: 920-735-5692
More Appleton area options are listed here
Moraine Park Tech
700 Gould St, Beaver Dam, Wisconsin 53916, Ph: 920-924-3207
Berlin Job Center
237 Broadway St (Ste C), Berlin, Wisconsin 54923, Ph: 920-361-3400
Lakeshore Tech Cleveland
1290 North Ave, Cleveland, Wisconsin 53015, Ph: 920-693-1282
Northeast Wisconsin Technical College
2740 W Mason St, Green Bay, Wisconsin 54307, Ph: 920-498-7106
Check out all Green Bay prep facilities here
Hartford Library
53 East Rogers St, Hartford, Wisconsin 53027, Ph: 262-673-2903
Madison College GED Classes
211 N Carroll St, Madison, Wisconsin 53703, Ph: 608-745-3119
All Madison area GED prep sites can be seen here
United Way Manitowoc County R.E.A.D. Program
21 East Waldo Blvd, Manitowoc, Wisconsin 54220, Ph: 920-682-8888
All Manitowoc options are located here
Winnebago County Literacy Council
106 Washington Ave, Oshkosh, Wisconsin 54901, Ph: 920-236-5219 x 480
FVTC Oshkosh
150 North Campbell Rd, Oshkosh, Wisconsin 54902, Ph: 920-233-9191
YouthBuild Oshkosh (Advocap)
2929 Harrison St. Oshkosh, WI 54901, Ph: 920-426-0150
Lakeshore Tech
3620 Wilgus Ave, Sheboygan, Wisconsin 53081, Ph: 920-208-5888
The school offers GED prep classes that will guide you towards the GED certificate which is awarded by Wisconsin's Department of Public Instruction to students who complete the school's Career Awareness class and pass four tests in these academic areas: Reasoning Through Language Arts (including an essay), Science, Social Studies (including extended response), and Mathematical Reasoning. To qualify to take the GED exam, applicants must be at least 18 years and 6 months old, and their 9th-grade class must have graduated from high school. Applicants must be Wisconsin residents (or migrant workers/child of a migrant worker), not be signed up for any school program, not have a secondary degree, and have a valid government-issued ID.
Watertown Adult Ed.Center (Madison College)
1300 W Main St, Watertown, Wisconsin 53098, Ph: 920-206-8008
Fox Valley Tech-Wautoma Regional Center
205 East Main St, Suite 12A, Wautoma, Wisconsin 54982, Ph: 920-787-3319
West Bend Student Success Center
2151 N Main St, West Bend, Wisconsin 53095, Ph: 920-924-3130
More West bend options are listed here
Wisconsin free online GED course
Should we make adjustments? We are welcoming your contributions. Please inform us via our contact page.
GED testing centers in the Fond du Lac area 
Moraine Park Technical College
235 N National Ave, Fond du Lac, Wisconsin 54936, Ph: 920-924-3247
Fox Valley Tech
1825 N Bluemound Dr, Appleton, Wisconsin 54914, Ph: 920-996-2887
NE Wisconsin Tech-Greenbay
2740 W Mason St, Green Bay, Wisconsin 54307, Ph: 920-498-5427
50 well-known persons with a GED
Reduced passing score
A few years ago, it was decided to lower the passing score for each individual GED subtest as it was apparently set too high when the new GED program was introduced. So the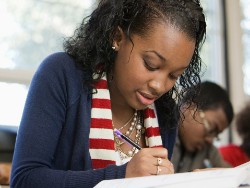 minimally required score was reduced from 150 to 145 points on each one of the four tests. You can read Read all about it here.
More information about everything related to GED testing, qualification requirements, testing subjects, passing score, and so on, please go to our article GED in Wisconsin. Benefit also from our free video instruction and practice test towards your GED diploma. Check also this page that lists all GED prep facilities in America.
No online GED testing
GED test takers are required to show up at an official Wisconsin GED testing center. There is no online testing possibility. If you happen to come across a website with different information, you can be sure this website is fraudulent. If you make the mistake of acquiring an online document, please be advised that this will definitely not be accepted by schools of higher learning and employers.
Would you like a career in Hospitality?
Hospitality careers are for people with strong organizational and interpersonal skills, and that also enjoy the art of creating a pleasant and enjoyable environment for customers. Hospitality schools provide training in organizational skills, management skills, communications skills, and how to coordinate the activities of many diverse departments.
A career in the Hospitality Industry provides opportunities to be active in managing resorts, hotels, cruise ships, clubs, restaurants, and so on. Hospitality professionals will have well-developed skills to satisfy every need of their customers and optimize the experience and well-being of their guests.
Restaurant Management Training
Restaurant management training provides you with great opportunities to manage a complex operation and play the lead role in creating a great customer experience for your customers. Many details need to be managed, including the management of the facilities, making sure that the cooking staff has what they need, ensuring that the staff makes the customers feel well served, and more.
Restaurant management degree programs include courses in hotel and restaurant management, financial management, business, restaurant marketing, sales, food and beverage purchasing, operational management, and more. Restaurant management degree programs typically include an internship of a full semester to provide practical hands-on experience.
Event Planning Careers
Event planning careers are for people with strong organizational and interpersonal skills, and that also enjoy the art of creating a functional and pleasant environment for customers attending an event. Event planning schools provide training in budget management, organizational skills, management skills, communications skills, and how to coordinate the activities of many diverse groups of people and suppliers.
Event planning careers provide opportunities to be employed by corporations, clubs, hotels, cruise lines, convention centers, running your own event planning business, and much more. Professionals with event planning training have developed skills in optimizing the experience of event attendees and making sure that every attendee is a satisfied customer.
Career Help For Single Moms
For practically all jobs as a single mom, you'll need to have a high school or GED diploma. By the time you've earned your degree, you will need all the help you can get to find a decently-paying job or be successful as self-employed. Here is some advice to get you in the right direction.
Many single moms are career moms as well. It's no easy task trying to have a job and care for your children without a partner to help you. Learning how to balance your workload with your responsibilities at home and to your kids can be a 24-hour job in itself, but our site is here to offer career help and other advice! We want single moms to be successful at whatever career path they may follow, and we have the information and resources to help them achieve that goal.
Maintaining that balance between the time you spend at work and the time you spend at home with your kids is an important but challenging task that seems impossible when you always feel like there aren't enough hours in the day to do it all.  But here you can find help for working moms like you, whether you need to juggle taking care of your kids while working at home, or how to keep up with your kids if you have a career outside the home. With time constraints like that to contend with, preparing meals for your family can be tricky, and long hours at work can leave little time for cooking. Still, nothing is impossible for a dedicated single mom like you! Find ideas here for how to plan meals with a busy schedule.
Because single moms are often the sole provider for their families, working at home can be a great solution so they can spend more time with their kids. While setting your own hours and being near your children all day can seem like an ideal work situation, there are more things to consider than just the benefits of a job like that. Not only do moms have to consider whether they can get their work done with their kids in the next room, but it's important to remember that there are many people who want to take advantage of others through work from home scams. These types of scams promise payment, often for little to no work involved, and never deliver. But we can help you learn to distinguish the scams from the legitimate job offers, and you can learn more about whether a work-from-home job is right for you.
If you're wondering what job you're best suited for, start here! Whether you want to find flexible hours, good benefits, fields with lots of new positions opening up, or jobs that pay well, you can find the details here. And if you already have that interview lined up, we have interviews tips to help you make a good impression, as well as how to polish your resume.
If you've lost your job, your situation changes drastically. We have resources to help you get the most out of your unemployment benefits, what to do when searching for a new job, and how to cope with being newly unemployed. What's more, you'll find resources to help you look for a job, what kind of job fits well with your skill set and experience level, and how to network and utilize those contacts to help you become the successful working mom you dream to be!