In Arizona, students looking to earn their GED diploma can take the four separate GED subtests at one of Arizona's testing centers or online.
BestGEDClasses offers you free GED online classes and practice tests to help you get ready for the four GED sub-exams efficiently.
To register for the GED test, candidates must set up their account with the website GED.com. We offer free support in the form of video lessons and practice tests.
Arizona is offering the computer-based GED exam for the state's high school equivalency testing program. The GED program offers adults who didn't finish high school the chance to earn a credential that's equivalent to a high school diploma.
The GED® testing fee in Arizona is $164 for the complete test (computer-based) or $41 per module when done at a test center. Online testing will set you back $41 per subtest as well ($164 overall).
You have the liberty to take the four subtests one (or more) at a time. Retesting is offered at a reduced rate, but this only counts for on-site testing.
You can retake a subtest twice without any waiting period, but if you've failed these attempts, there is a 60-day waiting period before you can retake that subject test.
Online GED classes- Simple, Fast & Easy.
Pass your GED quickly.
For your first two retakes within a year, discounted fees apply. After these discounted retakes, regular fees apply. If you fail again, you'll get two more retests at a reduced rate. The $20 test fee will be waived, though a $10 testing center fee will apply in Arizona for retakes. Again, this does NOT apply to online testing.
The GED test passing score is 145 points on each module (subtest), so you need to reach at least 580 overall. As said, you can take one subject test at a time.
Your scores on the four independent, modular GED exams do not expire. The four sub-exams cover the academic fields of
Mathematical Reasoning
Science
Social Studies
Reasoning through Language Arts
GED Arizona Requirements
The minimum age in Arizona is 16. However, 16 and 17-year-olds need to meet some strict additional requirements.
Underage test-takers (16 and 17 years of age) qualify if they provide verification that they have formally withdrawn from high school and a notarized, dated, and signed consent statement from a parent or guardian.
To qualify for the GED (General Education Development) exam, you must not be enrolled in a school program and not have graduated from a secondary school.
In Arizona, there is NO residency requirement, and applicants don't need to attend a prep program.
There's also no need to take the GED Ready® test prior to taking the real GED test. Only online testers will have to attain satisfactory results on the GED Ready test to qualify.
In Arizona, in addition to the four subtests, you also have to pass the state's Civics Test.
GED testing can now be done online as well, and the exam is done entirely on a computer in English or Spanish.
Arizona GED Prep Classes
Online preparation is perfectly okay, but you can also choose a traditional GED prep class near you. Select your nearest city to see all the options.
Arizona GED Test Centers
ApacheJunction
Central Arizona College – 805 S Idaho Rd, Apache Junction, AZ 85219, 480-677-7761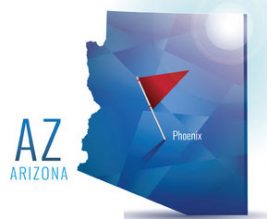 Avondale
Rio Salado College – 420 N Central Ave, Avondale, AZ 85323, 480-517-8553
Bullhead City
Mohave Comm. College – 3400 Hwy 95, Bullhead City, AZ 86442, 928-757-0831
Clarkdale
Yavapai College – 601 Black Hills Dr, Clarkdale, AZ 86324, 928-634-6561
Clifton
Clifton Public Library – 588 Turner Ave, Clifton, AZ 85533, 928-865-2461
Coolidge
Central Arizona College – 8470 N. Overfield Rd, Coolidge, AZ 85228, 520-494-5405
Douglas
Cochise College – 4190 W Highway 80, Douglas, AZ 85607, 520-515-5307
Douglas Public Schools  – 1500 15th Street, Douglas, AZ 85607, 520-364-3462 x 2159
Flagstaff
Coconino Comm. College – 3000 N. 4th St, Flagstaff, AZ 86004, 928-526-7629
CollegeAmerica – 399 S. Malpais Ln, 2nd Fl, Flagstaff, AZ 86001, 928-213-6060 x 1401
Globe
Gila County Education Service Agency – 5515 S Apache Ave, Globe, AZ 85501, 928-402-8548
Holbrook
Northland Pioneer College – 2251 N. Navajo Blvd, Holbrook, AZ 86025, 928-532-6142
Kingman
Mohave Comm. College – 1971 Jagerson Ave, Kingman, AZ 86401, 928-692-3046
Arizona@Work – 700 W Beale St, Kingman, AZ 86401, 928.753-0723
Lake Havasu City
Mohave Comm. College – 1977 W Acoma Blvd, Lake Havasu City, AZ 86403, 928-855-7812
Mesa
Mesa Comm. College – 1833 W. Southern Ave, Mesa, AZ 85202, 480-461-7480
Mesa Comm. College – 7110 E. McKellips Rd, Mesa, AZ 85207, 480-654-7811
Nogales
Santa Cruz Center – 2021 N Grand Ave, Nogales, AZ 85621, 520-394-7181
Payson
Gila Co. Education Service Agency (Payson Ad. Ed.) – 105 E Hwy 260, Payson, AZ 85541, 928-472-5284
Phoenix
Rio Salado College-Downtown – 619 N 7th Ave, Phoenix, AZ 85007, 480-377-4080
Phoenix College – 1202 W Thomas Rd, Phoenix, AZ 85013, 602-285-7844
Rio Salado College-Thomas – 3631 W Thomas Rd, Phoenix, AZ 85019, 480-377-4300
Gateway Community College – 108 N. 40th St, Phoenix, AZ 85034, 602-286-8165
Prescott
Yavapai College – 1100 E Sheldon St, Prescott, AZ 86301, 928-776-2201
Queen Creek
Rio Salado College – 21740 S Ellsworth Rd, Queen Creek, AZ 85142, 480-384-9317
Safford
Safford City Library – 808 S. 7th Ave – Safford – AZ 85546 – 928-432-4168
Scottsdale
Salt River Testing Ctr – 1663 N Longmore Rd – Scottsdale – AZ 85256 – 480-362-2154
Show Low
Northland Pioneer College – 1001 W. Deuce of Clubs, Show Low, AZ 85901, 928-532-6142
Sierra Vista
Cochise College – 901 N. Colombo Ave, Sierra Vista, AZ 85635, 520-515-5307
University of AZ South – 1140 N. Colombo Ave, Sierra Vista, AZ 85635, 520-458-8278
Surprise
Rio Salado Ad. Learning Ctr – 12535 Smokey Dr, Surprise, AZ 85374, 480-377-4290
Tempe
Rio Salado College-Southern – 3320 S. Price Rd, Tempe, AZ 85282, 480-377-4160
Rio Salado College-Tempe – 2323 W. 14th St, Tempe, AZ 85281, 480-517-8560
Thatcher
Eastern Arizona College – 615 N Stadium Ave, Thatcher, AZ 85552, 928-428-8491
Tucson
The University of Arizona  – 220 W 6th St. (Rm. B116), Tucson, AZ 85701, 520-621-7589
Pima Comm. College Downtown – 1255 N Stone Ave (AH Bldg-Rm 130), Tucson, AZ 85709, 520-206-7330
Pima Comm. College Northwest Campus – 7600 N Shannon Rd, Tucson, AZ 85741, 520-206-6503
Pima Comm. College East Campus – 8181 E Irvington Rd, Tucson, AZ 85709, 520-206-3987
Winkelman 
Central Arizona College – 80440 E. Aravaipa Rd, Winkelman, AZ 85295, 520-357-2800
Yuma
Arizona Western College – 2020 S Ave 8 E, Yuma, AZ 85365, 928-344-7641
Are updates required? Please advise us on this contact form.  Thank you for your contributions.
Online GED Testing
You can take the GED test online or in person at a testing center. Until recently, to acquire your GED credential, you needed to come to an official GED testing site and sit for the exam in person, but that has changed.
GED Testing Service has introduced an online proctored testing version. For more details, check out online proctored GED testing.
How to Start with GED Prep in Arizona
The best way to start preparing for the GED test is to take a few practice tests to check your knowledge. This website offers many practice tests; choose between Math, Science, Social Studies, and English Language Arts.
When you know your weak points, use online videos, books, and quizzes to eliminate your knowledge gaps. If you prefer to learn with a teacher, then sign up for a traditional class. Your local library will also have plenty of materials to make you well prepared, and there are numerous facilities that offer free GED prep classes.
Free GED Online Prep in Arizona
Preparing for the GED test might be intensive, but you will be rewarded. More than 96 percent of American employers regard GED diploma holders as equivalent to high school graduates in terms of earnings and opportunities for promotions.
Get optimally prepared, locate a GED testing site in your area, and register online. The free support on this website is provided by Onsego, a premium GED prep course recognized by GED Testing Service.
How is the GED Scored?
Your score on the GED modules is measured on a 100-200 scale.
Below passing: 100 to 144
High school equivalency: 145 to 164
College-ready: 165 to 174
College-ready + college credits: 175 to 200
To summarize, in Arizona, you can get your GED diploma if you pass the four subtests of the GED exam. There are many free GED prep classes throughout Arizona, and you can also use online GED classes and practice tests to get well-prepared for the test.
Upon completion of the exam, you will be awarded the GED diploma, which is accepted in the same way as a standard HS diploma by practically all North American employers and schools.
For more information:
Arizona Department of Education Adult Education Services
1535 W Jefferson Street, Bin 26
Phoenix, AZ 85007
Phone: 602.258.2410
Fax: 602.542.0031
FAQ about GED in Arizona
How to get a GED in Arizona?
To get a GED in Arizona, you need to pass the four independent subtests of the GED High School Equivalency Test.
You can register and pay for each of the four GED subtests (modules) at a time. The four tests cover the fields of Mathematics, Language Arts, Social Studies, and Science.
What are the Arizona GED testing requirements?
In Arizona, you cannot already hold a high school diploma, and you need to be at least 16 years old. For 16 and 17-year-olds, however, additional requirements apply. State residency is not required.
Arizona also doesn't require GED test-takers to first attend a GED prep course or reach sufficient scores on a practice test, except when the GED test is taken online.
What is the GED cost in Alabama?
In Arizona, the four GED subtests cost $41 each when taken at a test center or online, so the entire GED battery costs $164. You can take and pay for one subtest at a time. Bear also in mind that to qualify for online testing, you'll need to reach "green" (likely to pass) scores on the GED Ready practice test. There are four of these tests (one for each sub-exam at $6.99), so that's an extra $28!