Arizona is offering the computer-based GED® exam for the state's high school equivalency (HSE) testing program. The GED test fee in Arizona is $120 for the complete test (computer-based) or $30 per module.
Retesting is $30 per subject test.
The GED test passing score is 145 points on each module (subtest), so at least 580 overall. You can take one subject test at the time.
Your scores on the four modules (Math, Science, Social studies, and Language Arts) do not expire.
In Arizona, in addition to the four subtests, you also have to pass the state's Civics Test.
This page informs you about GED test resources that will successfully prepare you for the exam.
GED Arizona Requirements
The minimum age in Arizona is 16. However, 16 and 17-year olds need to meet strict requirements.
To qualify for the GED (General Education Development) exam, you must not be enrolled in a school program and not have graduated from a secondary school.
In Arizona, there is NO residency requirement.
The GED test consists of four subject tests: Literacy (Reasoning through Language Arts), Math (Mathematical Reasoning), Science, and Social Studies.
GED testing is done entirely on a computer in English or Spanish.
Arizona GED Prep Classes
Online preparation is perfectly okay but you can also choose a traditional GED prep class near you. Select your nearest city to see all the options.
Arizona GED Test Centers
Apache Junction
Central Arizona College – 805 S Idaho Rd, Apache Junction, AZ 85219, 480-677-7740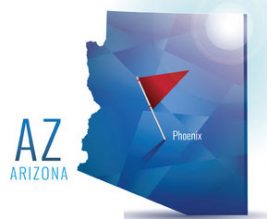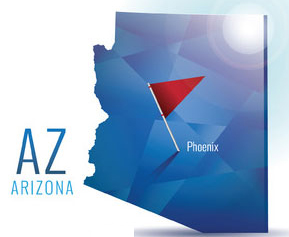 Avondale
Rio Salada College – 420 N Central Ave, Avondale, AZ 85323, 480-377-4402
Bullhead City
Mohave Comm. College – 3400 Hwy 95, Bullhead City, AZ 86442, 928–758-1406
Chinle
Unified School District – Hwy 191/Navajo Route 7, Chinle, AZ 86503, 928-674-9555
Clarkdale
Yavapai College – 601 Black Hills Dr, Clarkdale, AZ 86324, 928-634-6561
Coolidge
Central Arizona College – 8470 N Overfield Road, Coolidge-, AZ 85228, 520-494-5405
Douglas
Douglas Public Schools – 1500 15th St, Douglas, AZ 85607, 520-364-3462
Flagstaff
Coconino Comm. College – 3000 N 4th St, Flagstaff, AZ 86004, 928-526-7629
Glendale
Glendale Comm. College – 5727 W Happy Valley Rd, Glendale, AZ 85310, 623-845-4015
Globe
Gila Co. Education Service Agency – 1400 E Ash, Globe, AZ 85501, 928-402-8786
Holbrook
Northland Pioneer College – 2251 N Navajo Blvd, Holbrook, AZ 86025, 928-532-6114
Kingman
Mohave Comm. College – 1971 Jagerson Ave, Kingman, AZ 86401, 928-681-5668
Lake Havasu City 
Mohave Comm. College – 1977 W Acoma Blvd, Lake Havasu City, AZ 86403, 928-505-3340
Mesa
Mesa Community College – 1833 W Southern Ave, Mesa, AZ 85202, 480-461-7480
Nogales
Santa Cruz Center – 2021 N Grand Ave, Nogales, AZ 85621, 520-394-7181
Santa Cruz Adult Ed (Historic Courthouse) – 21 E Court St, Nogales, AZ 85621, 520-375-8025
Payson
Rim Country Literacy – 1100 N Beeline Hwy, Payson, AZ 85541, 928-472-5373
Phoenix
Gateway Comm. College – 108 N. 40th St, Phoenix, AZ 85034, 602 – 286-8160
Anthem College – 1515 E Indian School Rd, Phoenix, AZ 85014, 602-279-9700
Phoenix College – 1202 W. Thomas Rd., Phoenix, AZ 85013, 602 – 285-7844
Rio Salado Ad. Learning Ctr Orangewood – 2730 W Orangewood, Phoenix, AZ 85051, 602-347-6974
Rio Salado College/Northern – 1715 W Northern Ave, Phoenix, AZ 85032, 602-258-2410
South Mountain Comm. College – 7050 S. 24th St, Phoenix, AZ 85042, 602 – 243-8188
Prescott
Yavapai College – 1100 E Sheldon St, Prescott, AZ 86301, 928-776-2200
Prescott Valley
Yavapai Co. High School – 6325 W Baja Circle, Prescott Valley, AZ 86314, 928-443-0921
Safford
Safford City Library – 808 S 7th Ave – Safford – AZ 85546 – 928-432-4168
Scottsdale
Rio Salado Coll./Scottsdale Ad. Learning Ctr – 1170 N 86th Way, Scottsdale, AZ 85267, 602-258-2410
Salt River Pima, Maricopa Indian Comm – 10005 E Osborn Rd, Scottsdale, AZ 85256, 480-362-2560
Showlow
Northland Pioneer College – 1001 W Deuce of Clubs, Showlow, AZ 85901, 928-532-6111
Sierra Vista
Cochise College – 901 N Colombo Ave, Sierra Vista, AZ 85635, 520-515-5447
Surprise
Rio Salado Ad. Learning Ctr – 12535 Smokey Dr, Surprise, AZ 85374, 480-377-4250
Temple
Brookline College – 1140 S. Priest Dr, Tempe,- AZ 85281, 480 – 545-8755
Thatcher
Eastern Arizona College – 615 N Stadium Ave, Thatcher, AZ 85552, 928-428-8491
Tsaile
Dine College – Circle Drive, Tsaile, AZ 86556, 928-724-6736
Tuscon
Pima Comm. College – 1255 N Stone Ave, AH Bldg, Rm 130, Tucson, AZ 85709, 520-206-7330
Winkleman 
Central Arizona College – 80440 E Aravaipa Rd, Winkleman, AZ 85295, 520-357-2800
Yuma
Arizona Western College – 2020 S Ave 8 E, Yuma, AZ 85365, 928-344-7641
Questions? Contact Arizona's Department of Education at 602-258-2410 or visit them online at www.ade.az.gov
Are updates required? Please advise us on this contact form.  Thank you for your contributions.
How To Start With GED Prep In Arizona
The best way to start preparing for the GED test is to take a few practice tests to check your knowledge. This website offers many practice tests; choose between Math, Science, Social Studies, and English Language Arts.
When you know your weak points, use online videos, books, and quizzes to eliminate your knowledge gaps. If you prefer to learn with a teacher, then sign up for a traditional class. Your local library will also have plenty of materials to make you well prepared, and there are numerous facilities that offer free GED prep classes.
Preparing for the GED test might be intensive but you will be rewarded. More than 96 percent of American employers regard GED diploma holders comparable to high school graduates in terms of earnings and opportunities for promotions.
Get optimally prepared, locate a GED testing site in your area, and register online.
How Is The GED Scored?
Your score on the GED modules is measured on a 100-200 scale.
Below passing: 100 to 144
High school equivalency: 145 to 164
College-ready: 165 to 174
College-ready + college credits: 175 to 200
Free GED Online Prep in Arizona
To summarize, in Arizona you can get your GED diploma if you pass the four subtests of the GED exam. There are many free GED prep classes throughout Arizona, and you can also use online GED classes and practice tests to get prepared for the test.
Upon completion of the exam, you will be awarded the GED diploma which is accepted in the same way as a standard HS diploma by practically all North American employers and schools.
GED Testing Service, the official publisher of the GED test, holds all copyrights to GED and the GED Ready Practice Test and has not been involved in, or endorses, this website's content. GED Testing Service is not approving this Alabama information or the practice tests and video lessons or anything else published on this website.