If you want to register for the GED test, you need to do it online at the website GED.com. First, you have to create your account, and then you will be able to schedule your test.
It counts for both options: scheduling your GED® test online and in a testing center.
Recommended😍
Fast & Easy Online GED Classes
Get Your Diploma in 2 Months.
It doesn't matter when you left school.
Here you will also find GED test locations and test dates. GED testing is usually taking place in community colleges or adult education centers, and online GED testing is also available for qualifying candidates.
Here is a friendly manual on what to expect and how to set up your MyGED account.
To create a MyGED account and sign up for the GED exam, you need to go to the website GED.com. This is the official website for registration if you want to take the GED tests.
Here you can schedule and pay for your tests, check your scores, and, if needed, reschedule a GED subtest. Your MyGED account will organize everything neatly for you, and you can find a lot of useful information here.
GED Registration
To take the GED test, you need to register online at GED.com and follow the instruction on the screen.
To register on this website, you will need to have an email address, and if you don't have one, you can do so at the portal MyGED or go to Gmail.com and set one up for free.
The GED.com website simplified the process of signing up, and you don't need to answer as many questions as before. You may also learn more about how to set up an account with GED.com in the linked informational post.
Right now, you are only asked about your name, address, and if you are currently attending high school classes.
Keep in mind that you are eligible to take the GED test only if you are NOT participating in high school classes or another education program.
Then you will be asked to choose your first subject. This is a good practice because most people find it easier to focus on one subject and start with their best subject.
You can now also pay for your GED tests with the American Express Bluebird card if you don't hold a major debit or credit card. Click on the link to learn more about setting up a free account and applying for the card.
On the next page, you will be asked when you want to take your chosen subject test. You have three choices:
ASAP
In three weeks (choose this option if you just need to brush up on key concepts)
In six weeks ( choose this option if you need to start with basics and learn most key concepts)
When you make a choice, your goal will be displayed on the dashboard and visible to you immediately when you log in. This is a great feature!
Research has proven that people who set their goals accomplish significantly more than those who do NOT set their goals. So, you are on your way to successfully accomplishing your goal.
After creating the GED account, you have access to many valuable tools: you can schedule your test(s) at a testing center or online if you qualify, find local classes, or buy the GED Ready® practice test.
We strongly recommend taking the GED Ready practice test before you take the real test, and bear in mind that now, you can also take the GED exam in an online proctored format.
GED Ready
The GED Ready practice test is a tool that can identify if you are ready to pass the real GED test.
The GED Ready test costs $6.99 per subject, and when you choose this option, you will be redirected to the marketplace where you can buy this practice test.
There are four testing areas: Reasoning through Language Arts (RLA), Mathematical Reasoning, Science, and Social Studies.
The GED Ready practice test, similar to the real GED test, is available in English and Spanish.
Here is a detailed manual on purchasing and using the GED Ready test.
Choose The GED Subject Test(s)
You can choose just one test or more than one. In case you take more than one test, you will have a 10-minute break between the subtests. So you can take one test when you feel comfortable doing so.
Many students say that RLA (Literacy) is the easiest exam, and 75% pass it the first time.
After all that, you will be informed about the locations of GED testing centers near you (according to the address you submitted when you signed up for your account on GED.com). To learn more about online proctored (O.P.) GED testing, <- visit this post.
Check here to find -> all GED test locations and adult education centers in the US.
GED In English And Spanish
You choose a language for your tests, English or Spanish, but you aren't allowed to combine language versions to complete the test. In some areas, the GED is also offered in French.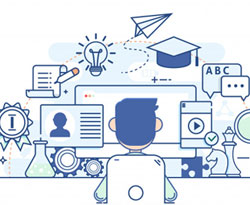 GED Testing Dates
When you choose a desired GED testing site location, a calendar with available testing dates will be displayed. After you have chosen a date and time, you are redirected to the payment page.
I chose RLA (Reasoning through Language Arts) as my first exam, and it costs me $32. Not bad, right? After you log in, you will often see ongoing promotions.
For example, when I created my account, I received a $10 discount on my first GED test subject, and I also got an email offering me a 10% discount on everything else from the GED Marketplace.
GED Test-Takers Need Appropriate Photo IDs
You will be asked to confirm your identity (you will need identification such as a passport or driver's license) as you will be using it in a GED testing center.
Many states require you to be a resident of the state. You will be asked for your Social Security or Tax Identification Number, but it's not required.
Paying For The GED Test
You can pay directly for the GED test on the GED Marketplace. This is the online shop where you buy GED tests, and you also can buy GED Ready tests and other learning materials.
The price of the GED exam depends on the state you live in. You will have to use a major credit card or debit card, but if that's a problem, you can also use the American Express Bluebird prepaid card that you can upload at any Walmart, as I stated above.
For example, when you live in Florida, the price for 4 subjects is $128 (or $32 per subtest), but if you live in California, the price is $140 (or $35 per subtest).
There are also states that subsidize the tests partially or fully. You can check what the GED fees are in your state <- here.
Discounts For Retaking A GED Test
The first two retakes for failed exams are discounted. In Florida, a retake costs $12 per subject, and in California $15.
What I like about the MyGED account on the website GED.com is that you have all your scores and scheduled tests in one place. You can also request a transcript of your exam there.
For physical GED prep class locations, check out this website as we have the largest database with GED prep sites; contact a community learning center's office near you, or follow a (free) online GED course, and Facebook and Twitter may also be helpful.
Conclusion
To summarize, GED.com is a modern and very useful way of organizing your GED studying and getting your GED credential.  You will find a lot of information, tips, FAQs, and information about transcripts, careers, jobs, workforce, policies, accessibility, and requirements. It is really a very useful website.
Bear in mind that when you take the GED exam online, your testing appointments are scheduled in the appropriate time zone and that after two failed online attempts, you'll have to wait for at least 60 days before you can take that subject test again online.
Many technical colleges have adult education departments that offer GED classes, often at no charge at all, and your public school board staff should also be able to provide relevant information. Contact them by phone and see if you can fill out the proper forms.
The GED test is provided by GED Testing Service. Students who pass the GED test will be awarded a Certificate of High School Equivalency (GED Diploma.) Students with GED diplomas are eligible for a college education and form an important element of the workforce. GED test-takers can view their testing reports right after testing.
Government organizations and colleges recognize a GED diploma as equivalent to a high school diploma with regard to program eligibility and as a prerequisite for admissions. You may very well benefit from our free services, which include GED practice tests and video prep lessons.
Many online GED programs offer courses where you can decide on how many hours you want to study to boost your skills development that you will apply on test day. You can visit our free help and GED news posts if you click on the appropriate links. Our help and support system to help you with your MyGED registration is totally free.