Hawaii is offering two options for high school equivalency (HSE) testing, the GED® and the HiSET®. HSE testing offers individuals who haven't completed high school the chance to acquire an equivalent credential.
The GED is entirely computer-formatted while the HiSET is offered on-paper and on-computer.
GED testing fee is $150 for all 4 computer-based tests, $37.50 per section. Retesting is $37.50 per section. The HiSET is more affordable.
The GED exam includes four individual subtests (modules) that can be completed separately.
The HiSET exam has five subtests that can also be dealt with individually.
Students need to pass the following GED subtests: math, science, social studies, and literacy. Scoring takes place on a 100-200 scale. GED passing score (high school equivalency): 145-164; college-ready score: 165-174; college-ready + college credit score: 175-200.
The HiSET passing score is 8 (out of 20) for each of the 5 subtests. Your essay must be a 2 at least, and your total result must be at least 45 points.
The HiSET exam contains five subtests. The literacy section has separate reading and writing tests.
The GED and HiSET are not available online. You will have to show up in person at an official GED-HiSET test center.
After passing the GED or HiSET exam, you are awarded the HSE diploma. This document is nationwide accepted as the equivalency of a regular high school diploma by virtually all recruiters, employers, government institutions, and universities.
Hawaii GED Requirements 
Age requirement in Hawaii: applicants must be at least 16 years old though, for 16 or 17 year-olds, strict requirements apply.
Hawaii has no residency requirements.
You never completed high school and are you not signed up for another school program.
Hawaii GED Prep Classes
You can prepare for the GED test by studying online or you can choose a traditional GED prep class near you. Click on your nearest city to find all GED prep sites.
Hawaii GED Testing Centers
Hilo
Community School for Adults – 450 Waianuenue Ave C-3, Hilo, HI 96720, 808-974-4100
Honolulu
Farrington Community School for Adults – 1101 Kalihi St, U101, Honolulu, HI 96819, 808-832-3595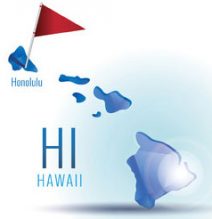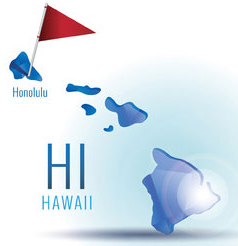 Honolulu
Kaimuki Community School for Adults – 2705 Kaimuki Ave, Honolulu, HI 96816, 808-733-8460
Honolulu
McKinley Community School for Adults – 634 Pensacola Street, Room 216, Honolulu, HI 96814, 808-594-0540
Honolulu
Moanalua/Aiea Community School for Adults,- 2825-A Ala Ilima St., Honolulu, HI 96818, 808 – 837-8466
Kahului
Maui Community School for Adults – 179 Kaahumanu St, Kahului, HI 96732, 808-873-3082
Kailua
Windward School for Adults – 730 Iliaina St., Kailua, HI 96734, 808-254-7955
Kailua-Kona
Kailua-Kona School for Adults – 74-5062 Onipa'a Street F-2, Kailua-Kona, HI 96740, 808-313-3032
Lihue
Kauai Community School for Adults – 3607-A Lala Rd, P-12, Lihue, HI 96766, 808-274-3390
Wahiawa
Wahiawa Community School for Adults – 1515 California Ave, Wahiawa, HI 96786, 808-305-3200
Waipahu
Waipahu Community School for Adults – 94-1211 Farrington Hwy, Waipahu, HI 96797, 808-307-9677
Questions? Call Hawaii's state office at 808-203-5511
Does this page require any adjustments? Please advise us here on this information page. Your feedback is appreciated!
Prepare Well For The Hawaii GED
You can sign up for the GED or HiSET exam if you have no high school diploma, and are not currently signed up for any school program. Contact your local GED test center for details or check our posts where you can find information as well.
If you want to go for your HSE certificate or diploma, the following guidelines will get you ahead: Find a GED-HiSET prep site close to you, go online at GED.com, and check out their dates. Beware of specific application policies, as they may differ. Get to understand as many relevant details from your local GED prep center as possible.
When taking the GED tests (four independent tests in Science, Math, Social Studies, and Literacy) or the five-test HiSET, make sure to be optimally prepared. Your local library or bookstore can provide you with decent preparation materials, you can find prep sites via the listing above, and there are some pretty good online preparation courses as well.
Proper preparation is key, but there's no need to prepare for all four GED or five HiSET tests simultaneously. The subtests can be taken one at a time.
The GED Exam
The exam is entirely computer-based and directs students better towards knowledge and skills required by employers so the test takers will be adequately prepared for the employment market and college education.
The computer-based GED exam has some significant advantages: registration is now easier (online), and students can see their scores right after they took the exam. With the former GED test system, they needed to wait in anxiety for at least two weeks.
Online GED Testing?
Preparation has become more important than ever before, so take advantage of everything that is available. Be aware that many fraudulent websites tell you can take the GED or the HiSET test online, but that is not true, the GED or HiSET exam is simply NOT offered via the internet. If you don't have a high school diploma, the GED exam offers you a wonderful chance to secure a document that is comparable to a high school degree, so take advantage of this opportunity to improve your income and your living standards. Your future can start right now and will be much brighter if you so!
The GED diploma will surely improve your career options and allows for higher education. Don't forget to check our article about signing up for your GED exam with the portal MyGED.
The HiSET has five testing fields (a separate test for writing and one for reading) and can be taken both on a computer and on paper.
The GED tests are scored on a 100 to 200 scale. 100-144: below-passing; 145-164: high school equivalency; 165-174: college-ready; 175-200: college-ready + college credit.
Free GED Online Prep In Hawaii
To be successful at the HiSET, students must score at least 8 out of 20 on each of the five subtests, score at least 2 out of 6 on their essay, and achieve an overall score of at least 45. Make sure that you will actually be able to take the GED before enrolling in any prep course. You could end up spending time and money preparing for the wrong test if you're forced to take an alternative one.
There is still a lot of information and study materials floating around on the internet for outdated series. There's a chance that there are still some unreputable companies out there charging for courses developed for the old test. Before enrolling in any prep course, or buying any study guide, it's important to make sure that it is for the new version of the GED like the practice tests offered for free on this website.
There are a lot of GED prep sites and courses that do little more than copy and paste the resources that are freely available from GED Testing Services at GED.com. If you're going to pay any company for GED prep, first compare all of their offerings to your free options to determine if the course has any real value before you sign up.