It can take three months to get your GED diploma if you study 2-3 times a week for at least 1 hour.
If you would learn once a week, it will take 6-8 months to get ready for the GED test. That's how long it is to the GED.
But this just an indication, and it all depends on how students get prepared so the results will vary. There are GED test-takers that pass the GED test within weeks!
Follow our GED Prep Tips to get the best results. If you pass the GED® exam, you can get into college and the credential qualifies you for decently paying jobs.
Keep in mind: the GED test is a mental marathon that has a significant impact on your future. 
Just like a marathon runner, it is important to work your way up to the full challenge. GED testing can be done online or in-person at test centers.
So first, decide how often you will take the time to prepare for the GED test.
Once a week? – It will take you 6-8 months to get ready for the GED exam
2-3 times a week? Great! In 2-3 months, you will be all set for the exam
How long are GED classes?
If you decide to take traditional classes (as opposed to online preparation) provided by one of the numerous schools across the nation, you are expected to attend classes for about 4-12 months. Schools offer different levels of preparation classes to fit the different levels of their students' knowledge.
These traditional programs work with skilled instructors and often offer GED (General Education Development) classes at no cost to adult learners who left high school without a diploma.
Generally, to be able to follow these GED prep programs, students need to attend a GED orientation session at a prep center to enroll in the GED classes. Orientations are approximately 2 hours long.
There also might be a waiting list and priority registration is given to students who previously enrolled for the class waitlist.
So if you decide that you would like to attend a GED preparation class, find a school close by your location and check availability so you can appear at an official testing center fully prepared and work towards a fulfilling career.
The four GED subtests are in Mathematical Reasoning, Social Studies, Reasoning through Language Arts (Writing and Reading combined), and Science. GED testing will enhance your skills and if you complete the four tests, you will receive your state's high school equivalency diploma which is technically the same as a conventional high school credential.
Often, these prep classes are available at no cost at, for example, community adult learning centers, libraries, or churches.
Famous was also the Army GED Plus Program that ran from 2006 till the end of 2013. Qualifying students could earn their GED diplomas in a rigorous army education program that took from 17 to 22 days.
This website offers you additional online preparation programs for free as well in Math, English Language, Science, and Social Studies for passing the GED exam. Click here to find GED classes near you in our database.
We are list some 25000 GED prep locations throughout the country. Click on the link above to discover all prep locations in the nation. Testing centers are included as well.
If a student has taken the tests, he or she can view the results right after testing. The passing score on each individual subtest is 145 out of a possible 200 points. In order to fulfill all GED testing requirements and attain positive scores, you don't need to learn for months or years.
We provide free test GED resources and services for those that have at least the required age. No need to sign up for our free help and you can also contact your local adult education office. Many community colleges offer also added support.
Additionally, GED prep classes are often available at public libraries, community centers, churches, and numerous other organizations that work hard to improve the lives of people in their communities.
GED Prep Tips:
#1 – Use video lessons for your GED prep. According to researchers, we remember 95% of a message when it is watched, compared to 10% when read. About 90% of the information our brains process is visual. For 10 Social Studies Prep Tips, check here.
Scientists say our brains process visuals at a higher rate, almost 60,000 times faster than processing the written word. That's powerful! So, could you make use of it?
Here are our free video GED online classes for adults. You don't need to submit an email address to take part in these free resources. Just start learning!
#2 – Take as many practice tests as you can. There's a considerable difference between passive studying and powerful test-taking. Learn more in this post about GED test prep.
Taking practice tests will put your knowledge into action, as well as help you gauge your progress and identify which areas you need to focus more on.
Make sure to score your tests and understand the answer explanations. If you make a mistake or don't know a question, you should write that one down in a notebook so you can go back to it and fill in the gaps in your knowledge.
Here are our free GED practice tests for all GED subjects.
#3 – When you feel ready, take a GED practice test without any time constraints, and use all available study help, the so-called open book method.
You can take all the time you need to answer the questions, allowing you to focus on the best way to apply different strategies.
#4 – Then, take a timed GED practice test and use all available study help (open book method).
#5 – Now take a timed GED practice test and don't use any study guides or help.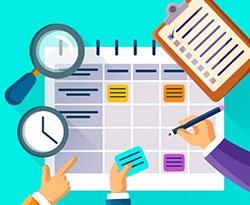 It would help if you took as many practice tests as you can, but be aware that on test day, you must be optimally prepared.
Inspiring Stories of GED Graduates
Read these two stories of students who used our GED programs to get ready for the exam. Julia W. is a 29-year-old single mom from California who's working full-time. She said it was absolutely worth getting her GED diploma. It helped her get ahead big time!
When she started our GED program, she was busy with her life and work. She enjoyed her work, but she wanted to earn more. "I wanted security for my daughter too," Julia explains. "A little security. My pinnacle of success was just to become a proud GED graduate in a year."
Julia followed Covcel's online prep program and signed up for reminders once a week so she could still take care of all important stuff. But instead of watching TV series, she was spending 1 hour on Friday evenings watching 3-4 prep videos and taking the accompanying short tests.
Soon enough she started seeing results, the tests seemed to become easier, and she could watch 5-6 videos during her hour of studying. Small steps summed up and after 4.5 months she knew she was ready for the GED exam.
For the following two weeks, she took practice tests, and then she took the final "real" exam. Julia passed the four tests of the GED, and she feels more secure at work. "I learned something else; now I know that I can achieve my goals if I set my priorities right.
Sarah K. used our GED programs to secure her GED diploma stress-free in 3 months. Here's how she did it:
"Earlier this year, my former boss referred me to a small company looking for a receptionist. I got a call from the company's manager to schedule an interview. In that same conversation, she asked if I had a high school or GED diploma.
I knew I couldn't lie, so I said no but I'm working on it and will have my GED diploma in 2 months. That's what I thought how long a GED course would be. She was okay with it. A few days later, I had the interview. The hiring manager wanted me to clarify my education.
Again, I told her that I would have a GED diploma within two months." A few hours later she called to offer me the job. This was nice, but now I was under pressure, and I was looking for a magical way to get my diploma. I even considered buying it online, but after thinking about it for a minute, I knew this was an extremely stupid idea.
So I took the Covcel online GED program that includes video lessons of 2-4 minutes and then there is a 2-questions test, and you can read what was spoken in the video.
Every GED subject is divided into smaller chapters with video lessons, and there is also a test related to the material learned in a chapter. It was hard for a week, and I didn't like learning at all, but it got better. I got a feeling of accomplishment every time I finished a small test.
Sure enough, I was ready for 2.5 months. I took a bunch of GED practice tests and passed them every time. I signed up for the GED exam, I took two tests per day, and was successful on all four of them!
I emailed my boss informing her of my GED diploma. Within minutes, she wrote back saying she had always believed in my capacities."
Let's break down how Sarah and Julia got such massive results:
They knew what traps to avoid, like not buying a fake GED. Often, we're so eager to get the job that we are ready to buy a "diploma" … and rob ourselves. If you've done your homework, you'll know there is no magic solution.
They were motivated and confident. They knew what was needed to do.
They chose a set of proven tools. Online GED programs are an easy way to start and learn. Thousands of students have earned their GED diploma stress-free. Even if you don't have a computer at home, you can always go to the library. Take control.
They stuck to their routine. Starting a new schedule is hard, many people don't follow the plan. They were motivated and kept learning.
They took many GED practice tests before the real exam. When you are well-prepared and know what to say, you gain power and control, and you're more likely to succeed.
You've now already learned some of the secrets of getting the GED diploma stress-free.
We deliver online learning materials in the form of video classes and GED practice tests at no charge at all to help you with your GED education.
Do you feel that you're not good at learning?
Don't worry; you are not alone. Many people who have been out of school for some time have the same feeling. And keep also in mind that after you've earned your GED, you still can get a high school degree.
There isn't that much difference when it comes to getting a job or going to college, but when you want to enlist in the army, a high school diploma is preferred.
For now, just focus on the first step: starting to learn and adopting a new routine. I'm pretty sure that, after a while, you'll get the hang of it and that you'll see some amazing progress.
It's worth it; the rewards can be enormous: further education, a better job, a better life. GED testing was offered exclusively at state-designated, official GED testing centers, but now, also an online proctored testing format was welcomed.
If you require accommodation at testing, request so on the website GED.com or at your regional GED testing site but please do so in a timely manner.
All testing sites are required to comply with applicable laws for individuals with disabilities but they need time to take the proper measures. So now you have some idea of how long it is to your GED.
Last Updated on April 20, 2021.